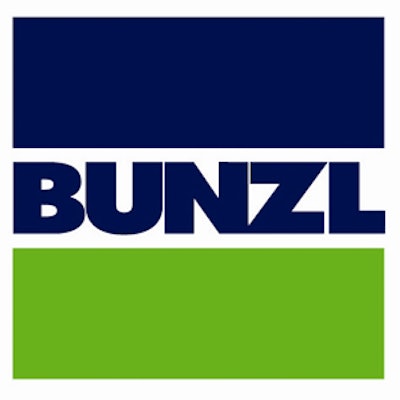 Bunzl plc, the international distribution and outsourcing group, published its annual results for the year ended 31 December 2013.
 
2013
2012◊
Growth
as reported
Growth
at constant
exchange
10 year
CAGR as
reported◊
Revenue
£6,097.7m
£5,359.2m
14%
12%
11%
Operating profit*
£414.4m
£352.4m
18%
16%
10%
Profit before tax†
£372.2m
£318.4m
17%
16%
10%
Adjusted earnings per share†
82.4p
70.6p
17%
15%
11%
Dividend for the year
32.4p
28.2p
15%
 
10%
 
 
 
 
 
 
Operating profit
£332.1m
£293.8m
13%
 
 
Profit before tax
£289.9m
£263.8m
10%
 
 
Basic earnings per share
63.5p
58.7p
8%
 
 
Other highlights include:
Strong double digit percentage increases in revenue, operating profit* and adjusted earnings per share†
Acquisition spend of £295 million on 11 acquisitions in all business areas
Group operating margin* up 20 basis points to 6.8%, with UK & Ireland back to 7.0%
Rest of the World operating profit* up 65% at constant exchange rates to £51.2 million
Another year of strong cash flow with operating cashflow** to operating profit* of 102%
Net debt to EBITDA* at same level of 1.8 times despite £280 million acquisition cash outflow
21 year track record of strong dividend growth continues with an increase of 15%
◊ Restated on adoption of IAS19 (revised 2011) 'Employee Benefits' (see Note 1)
* Before intangible amortisation and acquisition related costs
† Before intangible amortisation, acquisition related costs and disposal of business
** Before acquisition related costs
Commenting on today's results, Michael Roney, Chief Executive of Bunzl, said: "I am pleased to report that Bunzl has delivered another excellent set of results with strong increases in revenue, operating profit, earnings and dividend. Organic growth, as we continued to gain additional business with existing customers combined with new customer wins, was bolstered further by acquisition activity with 11 acquisitions during the year.
We have announced two acquisitions today in Germany and the Czech Republic and we expect to complete further acquisitions in the coming months. We believe that an improving macroeconomic outlook, Bunzl's strong competitive position and the full year impact of the 2013 acquisitions should lead to good growth at constant exchange rates in 2014 as we continue to build value for our shareholders."
---
Bunzl makes further acquisitions in Germany and Czech Republic
Bunzl plc, the distribution and outsourcing group, announced that it has completed the acquisition of further businesses in Germany and the Czech Republic.
The company has acquired Bäumer Betriebshygiene Vertriebsgesellschaft mbH and its related company Protemo GmbH in Germany. Based near Düsseldorf, Bäumer is principally engaged in the distribution of cleaning and hygiene and healthcare supplies to end users in various market sectors while Protemo focuses on the sale of healthcare related products to the healthcare sector. The aggregated revenue of both businesses in the year ended 31 December 2013 was €11.9 million.
Bunzl has also purchased Oskar Plast sro. Based in Prague, the business sells a variety of disposable packaging products to customers throughout the Czech Republic including retail chains, food processors and other distributors. Revenue in the year ended 31 December 2013 was CZK284 million.
Commenting on the acquisitions, Michael Roney, Chief Executive of Bunzl, said:
"The acquisition of Bäumer and Protemo represents our first step into the cleaning and hygiene and healthcare sectors in Germany and should provide a good base for us to develop further in these markets. Oskar Plast is an important addition to our existing operations in the Czech Republic and will strengthen our presence there. We are pleased to welcome all of their employees to the Group."