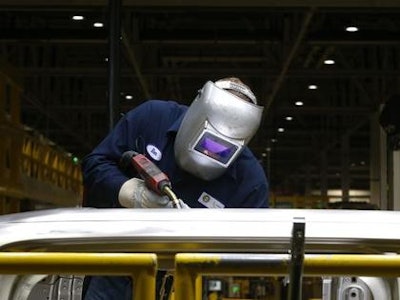 Transportation and electrical equipment accounted for most of the reshored U.S. jobs over the last five years, according to a report from the Reshoring Initiative.
The Illinois-based group's data showed 33 companies that produced transportation equipment returned 13,823 jobs from overseas to the U.S.
Ford and General Motors, respectively, led the way in that industry with 3,250 and 1,800 vehicle and engine production jobs brought back to the U.S. from Mexico.
Production of electrical equipment, appliances and components, meanwhile, accounted for 9,240 reshored jobs from 58 companies. General Electric accounted for 1,900 reshored jobs alone.
Combined, those sectors far outpaced reshoring in 14 additional sectors tracked by the Reshoring Initiative primarily between 2010 and 2014.
Read more about manufacturing trends for 2015 and beyond.
Computers and electronic products saw 3,483 jobs return to the U.S., while the machinery sector reshored 2,860 jobs and apparel and textiles brought back 2,154 positions. Fabricated metal producers reshored 1,721 jobs, the food industry returned 1,628 positions and wood products reshored 1,028 jobs.
Industries returning less than 1,000 jobs over that span included the office industry, medical equipment, hobbies, construction, plastics and rubber and home and kitchen. The castings sector returned only 57 jobs, while non-metallic mineral products accounted for just 12 reshored jobs.