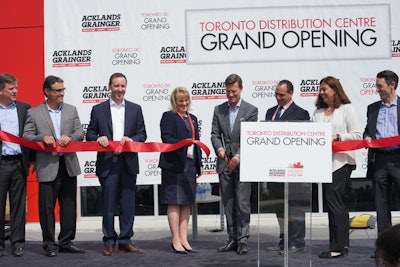 TORONTO — Acklands-Grainger Inc., Canada's largest distributor of industrial, safety and fastener products, hosted a grand opening on Thursday to celebrate its new Toronto distribution center located in the town of Caledon, Ontario. The state-of-the-art 535,000 square-foot facility has the capacity to stock 170,000 products and serves customers throughout Canada. Customers in Ontario, Quebec and Atlantic Canada will benefit from next-day delivery through this distribution center.
"Acklands-Grainger is committed to getting our customers what they need, where and when they need it, and we are continually evaluating the best way to do that," said Dean Johnson, President of Acklands-Grainger. "Key aspects of our new Toronto distribution center were designed with customers in mind, and will enhance our ability to serve them."
Acklands-Grainger has more than 130 team members working in its Toronto distribution centre, and currently operates 187 branches and distribution centres across Canada, including 40 in Ontario.
"Having this distribution centre in Caledon and the Greater Toronto Area allows us to better serve our growing number of customers in Eastern Canada," said Simon Kelly, Director at the Toronto distribution centre. "In addition, this is a solid community and it has a strong talent pool. We look forward to serving as a member of this community for generations to come."
The distribution center is built to Leadership in Energy and Environmental Design (LEED) standards and is designed for sustainable energy use. Grainger currently operates 18 LEED certified facilities in Canada, Mexico and the United States. Grainger was the first industrial distributor to have LEED certified facilities and remains committed to building its largest facilities to LEED standards. The company's commitment to sustainability extends to its products and services, and Acklands-Grainger now offers more than 1,600 products designated as environmentally preferable.
Read more: Grainger's Minooka DC LEEDing By Example
Acklands-Grainger is an active member in the communities where team members live and work. Since 2000, the company has donated more than CA$2.2 million to United Way, and is the National Founding Sponsor of the Red Cross Ready When the Time Comes® corporate volunteer program in Canada and the United States. Additionally, Acklands-Grainger is a proud supporter of the TORONTO 2015 Pan Am / Parapan Am Games this summer.