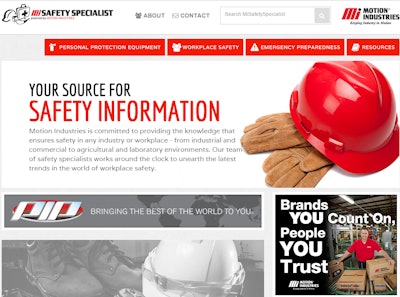 BIRMINGHAM, AL — Motion Industries, a distributor of industrial maintenance, repair, and operation (MRO) replacement parts, has introduced one of several new knowledge websites: www.MiSafetySpecialist.com.
Designed as an information hub, the Mi Safety Specialist site offers valuable resources to the industrial world about the latest trends in workplace safety and safety product knowledge. Site visitors will have the opportunity to access a wide array of content on the subject – including articles, videos, white papers, training materials and more.
"The Motion Industries team strives to be on the front end of safety innovation," said Randy Breaux, Motion Industries Senior VP of Marketing, Product Management, & Strategic Planning. "We are committed to helping people make well-informed safety decisions. The new site is a platform where our Safety Specialists can provide expert tips and share resources to help others improve safety in their workplace."
Motion Industries was No. 9 on Industrial Distribution's 2014 Big 50 List.
Geared toward professionals in the industrial, commercial, agricultural and laboratory environments, the Mi Safety Specialist site houses content that can be hugely beneficial to any operation. The primary areas of focus are personal protective equipment (PPE), workplace safety, and emergency preparedness.
In addition to being both desktop- and mobile-friendly, the website allows users to share articles that interest them with others across Facebook, Twitter, and Google+.
Motion Industries is a wholly owned subsidiary of Genuine Parts Company.