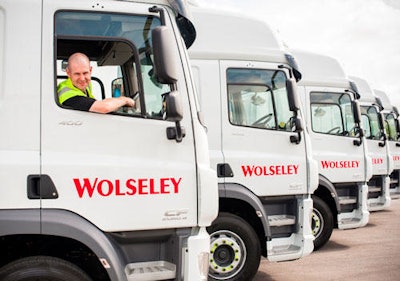 Wolseley – #1 on ID's Big 50 List – announced a sharp drop in first-quarter trading profit in Britain on Tuesday as a slowdown in the country's economic recovery hurt construction activity.
Trading profit in the division fell 21 percent in the three months through October to 19 million pounds, sending its shares down as much as 6 percent in early trade, reported Reuters UK. Additionally, said Reuters, "Revenue growth in Wolseley's U.S. industrial business also disappointed in the first quarter as it continued to be affected by a weak oil and gas sector and the strength of the dollar. 'While we anticipated that growth would be Q2-weighted against strong comparatives for the U.S. business, this was slightly lower than anticipated, which we believe may be a disappointment to the market,' Goodbody Capital Markets analyst said in a note to clients."
According to Market Watch, Wolseley said the heating market in the U.K. is expected to remain very competitive with little growth, but overall, expects the group to make continued progress in 2016.
Wolseley also made news this morning when it was announced that OpenGate Capital, a global private equity firm, has entered into a period of exclusivity with Wolseley plc, to acquire their France-based business, Bois & Matériaux ("B&M"), a leading distributor of building materials. According to the AP, B&M is one of the top three business-to-business distributors of building materials in France, with two established brands: Réseau Pro and Panofrance. B&M also has a single-branch business, Guimier, a specialty supplier of architectural plaster moldings to the Parisian market. B&M distributes building materials to more than 12,000 smaller, trade customers in the residential market, evenly split between new-build and renovation projects. B&M is headquartered in Rennes, France, generates more than €600 million in revenue, operates from 138 sites, and has 2,500 employees.