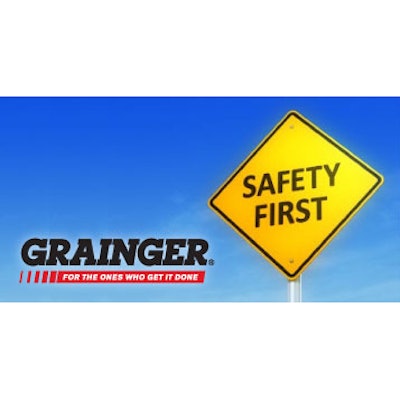 CHICAGO — Grainger – No. 3 on Industrial Distribution's 2014 Big 50 List – announced Monday that nearly 40 additional Grainger team members earned the designation of Qualified Safety Sales Professional (QSSP), as the company continues to expand its safety expertise in an effort to best serve its customers.
The QSSP program is sponsored by the International Safety Equipment Association (ISEA), the association for personal protective equipment and technologies. The week-long QSSP course focuses on the technical and regulatory fundamentals of workplace safety and health, which includes OSHA 30 certification. Nearly 80 Grainger team members are now QSSP certified.
"QSSP increases the knowledge and competency of safety sales professionals, which in turn, builds trust and credibility in the customer relationship," said QSSP course director Rick Raymer, CSP. "The resulting partnership can be instrumental in reducing injury and illness in the workplace."
QSSP is just one of many safety resources available to Grainger customers. The company also has a dedicated team of safety experts who are available via the phone to help customers with the information they need to identify products, comply with complex regulations and implement new safety initiatives. In addition, there are on-site safety experts, who are OSHA 30-Hour General Industry trained and QSSP certified, available to work with customers to help solve their safety challenges, offer cost-saving proposals and recommend program standardization strategies.
Grainger offers a new online Safety Solution Center as well, which gives customers access to the latest safety news, trends and information on regulatory issues. This all-access site is designed to help customers identify, control and prevent workplace hazards through quick tips, safety data sheets, newsletters and click-to-chat support.
"Safety is a critical area for all customers, which is why Grainger continues to grow its safety expertise and is working to create a comprehensive safety offering," Nino Granatiero, vice president, Safety Business Line with Grainger. "We partner with companies to help them keep their employees safe and operate safer facilities. If customers are struggling due to a lack of dedicated safety resources, complex regulations or changes occurring in their organizations, Grainger can offer the services and solutions to help them successfully tackle these challenges."
In 2014, safety and security products represented nearly 20 percent of Grainger sales. To learn more, visit Grainger.com/safety.