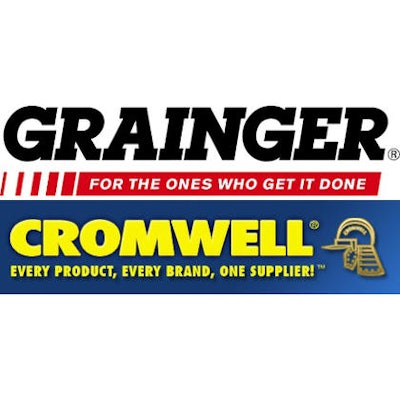 Grainger – No. 3 on Industrial Distribution's 2014 Big 50 List – announced on Thursday that it has agreed to acquire Cromwell Group and its subsidiaries for approximately $482 million. The transaction is to be completed in early September.
Headquartered in Leicester, England, Cromwell is the U.K.'s largest independent MRO distributor, serving more than 35,000 industrial and manufacturing customers worldwide with more than 80,000 industrial products and employing more than 2,150 team members. Cromwell's sales for its fiscal year ending Aug. 31 are forecasted to be $440 million, with the vast majority of sales in the U.K. EBITDA margins are expected to be approximately 10 percent.
"Grainger believes there is a compelling opportunity in the U.K. to grow its MRO online model, similar to what the company has already accomplished in Japan with MonotaRO and in the United States with Zoro," Grainger said in a release. "This acquisition will bring together Cromwell's product strength and customer relationships with Grainger's expertise in supply chain and eCommerce to accelerate growth in the core and online Cromwell business."
Free Whitepaper: The Definitive Guide To Pricing Optimization
Grainger went on to say the move enables it to profitably scale its Zoro Germany business, benefiting from access to a large portfolio of private label product sourced from Cromwell.
"We have demonstrated that when we have a broad product line and supply chain scale as we do in the United States, we can develop a profitable online model very quickly," said Jim Ryan, Grainger chairman, president, and CEO. "Cromwell is a great company with an outstanding product offering, strong management team, and stable supply chain and will be a strong addition to Grainger. Cromwell's solid foundation will enable us to accelerate the growth of the online model in Europe within the next six months. Over the next five years we expect sales growth from low single digits to approaching double digits, and EBITDA margins to improve from 10 percent to 15 percent."
Incoming Grainger COO DG Macpherson noted that Cromwell's online business is currently less than 5 percent of its total sales, a figure Grainger plans to ramp up quickly.
"We are very confident that Cromwell's supply chain will provide accelerated growth and scale for Grainger's online MRO model in the U.K. and Germany," MacPherson said.
Upon completion of the transaction, Grainger intends to operate Cromwell as a standalone business unit led by Cromwell managing director Michael Kerins and reported in Other Businesses.
Read More: Grainger Cuts Outlook Again, Though Q2 Profit Rises