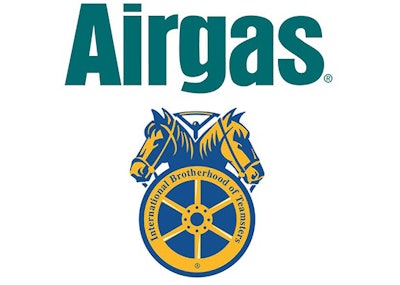 PHILADELPHIA — A majority, 53 percent, of Airgas shareholders voting in Wednesday's director elections withheld support from three independent board members standing for re-election. Excluding the shares held by board members and executive officers, the "no" vote was 62 percent of shares cast or more than 51 percent of total outstanding shares.
"Airgas investors have lost confidence in the leadership of this company," said Ken Hall, General Secretary-Treasurer of the International Brotherhood of Teamsters, a long-term Airgas shareholder and representative of Airgas employees throughout the U.S. "These directors should resign from the board immediately to make way for new directors who will be responsive and accountable to the shareholders they are elected to represent."
Airgas was No. 8 on Industrial Distribution's 2014 Big 50 List.
In a July 2015 letter to Airgas shareholders, Hall urged investors to withhold support from independent directors Hovey, Sneed and Stout for failing to de-stagger the company's board despite strong majority support for the reform three years running. To read the letter to Airgas shareholders, go to: http://ibt.io/19761.
Directors James Hovey, Paula Sneed and David Stout received only 47 percent support in the uncontested election. Significant support was also withheld from Airgas CEO Michael Molinini, who received 60 percent support. Because Airgas does not require majority support in uncontested director elections, each board member has been re-elected.
Outside Wednesday's shareholder meeting in Philadelphia, Teamsters protested the company's deteriorating labor relations and discriminatory pay practices, warning that an escalating labor dispute could lead to service disruptions for hospitals and other health care providers across the country. Teamsters also questioned the company about these concerns inside the annual meeting.
"It's time for change at Airgas," Hall said. "This board and management team has turned a deaf ear to the concerns of investors and workers long enough."
Visit www.teamster.org for more information.