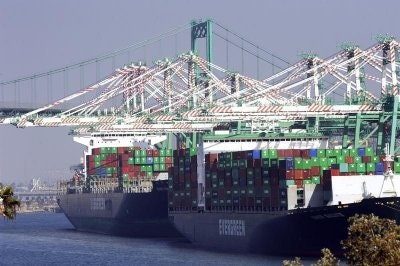 Two Republican senators on Friday proposed legislation that would enable governors to intervene in labor disputes at the nation's ports.
Sen. Cory Gardner of Colorado and Lamar Alexander of Tennessee argued that the Protecting Orderly and Responsible Transit of Shipments -- or PORTS -- Act would incentivize the quick resolution of disagreements between workers and port managers.
The bill would, during port disputes that threaten to harm the economy, allow governors to convene inquiry boards and, potentially, petition courts to prohibit work slowdowns or stoppages. Those powers currently belong to the president under the landmark Taft-Hartley labor law of 1947.
"Labor union bosses should not be allowed to hold the economy hostage, nor should they be allowed to use the livelihoods and jobs of millions of Americans as bargaining chips," Gardner said.
The effort follows a labor dispute at West Coast ports that spanned from last summer into this year. Amid contentious contract negotiations, port officials accused union members of deliberately slowing down cargo processing, while dockworkers alleged that management exacerbated preexisting problems to gain advantages at the bargaining table.
Ultimately, cargo loading and unloading ground to a near-standstill at some of the nation's busiest ports, and the U.S. Secretary of Labor intervened before both sides reached an agreement. The Pacific Maritime Association and International Longshore and Warehouse Union officially approved the new contract last month.
The National Retail Federation lauded the proposal and said it would make it easier for ports to continue operating during labor negotiations.
"The supply chain needs predictability to work and should remain free from any man-made disasters," said NRF lobbyist David French.
This week, reports indicated that port managers and dockworkers at East Coast ports began talks about a new contract with more than three years remaining on the current deal.