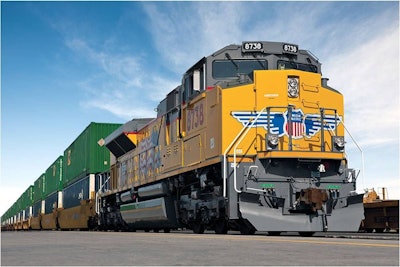 One of the nation's largest railroads reported a dramatic spike in the number of furloughed workers in recent months as rail shipments declined.
Union Pacific CFO Rob Knight said at a conference this week that about 2,300 union workers on the company's trains, equipment and freight are currently on temporarily layoff or "alternative work status," according to the Omaha World-Herald.
In July, only 1,200 workers were furloughed. Knight said the temporary layoffs, along with previously announced plans to cut hundreds of management jobs, were part of the company's "adjusting our cost structure to lower demand levels."
Shipping volumes were down 4 percent for the year to date compared to the same period in 2015, with declines in the chemical, agricultural goods and industrial goods segments, Union Pacific said.
Coal, meanwhile, fell due to mild weather and high utility inventories.
Vehicles and related parts was the lone segment to see an increase compared to 2014 levels, the World-Herald reported.
The numbers also hit Union Pacific's financial results. The second quarter saw a 7 percent profit decline and Knight said that the company likely wouldn't match last year's record earnings.