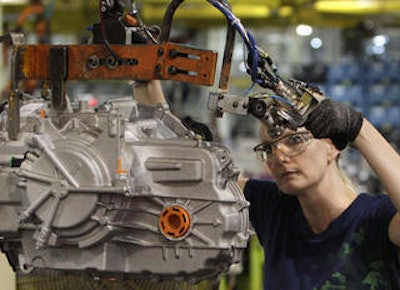 Women are underrepresented in almost every manufacturing-related field, despite the fact that they earn over half the advanced degrees in the U.S. According to a study released this past week, "Minding the Manufacturing Gender Gap," women make up the largest potential supply of untapped talent in the country.
The argument for making a bigger effort to actively encourage women to pursue roles in manufacturing is persuasive. The study reads, "Research shows companies with more diverse boards yield greater stock market returns adjusted for sector bias, and companies with higher female representation at the board level or in top management exhibit higher returns on equity, higher valuations and higher payout ratios."
Here's a look at how women are faring in manufacturing, by the numbers.
71: The percent of respondents who answered that their experience has caused them to believe that there is a pay gap between men and women in their industry.
The gender pay gap is a huge issue facing manufacturing; A Fortune article published earlier this year revealed that a list of job types with the biggest gender pay gaps disproportionately featured jobs found in the manufacturing industry.
53: The percent of respondents who believe the school system does not encourage female students to pursue careers in their industry at all.
Industrial Distribution's Mike Hockett reported on the state of women in the supply chain a few months ago. He quoted executives at logistics services providing companies who argued that education starting at an early age is the key to adding more women to the supply chain workforce.
73: The percent of respondents who believe women are underrepresented within their organizations' leadership teams.
The lack of women in leadership roles in manufacturing isn't just bad for women — it's bad for business as well. Respondents perceive that the underrepresentation of women isn't a coincidence. Seventy-four percent of those who answered the survey believe that an industry bias toward men for leadership positions is a factor contributing to underrepresentation of women in their industry.
51: The percent of respondents who have seen positive changes in the industry's attitudes toward female professional employees.
This response is extremely promising. In addition to over half of respondents reporting steps forward in their industry's attitudes, two-thirds of those surveyed said they would endorse a career in manufacturing for their daughters or other family members. Also, a whopping 70 percent said they would remain in their current industry if they were to start their career today.
The study included some tangible steps toward improving the outlook for women in manufacturing. Suggestions include starting the change at the C-suite, addressing gender bias head-on, fostering sponsorship, leveraging internal talent, creating a more flexible work environment and including men in the efforts.
How do you think manufacturers can continue to advance talented women in the manufacturing field? Comment below.