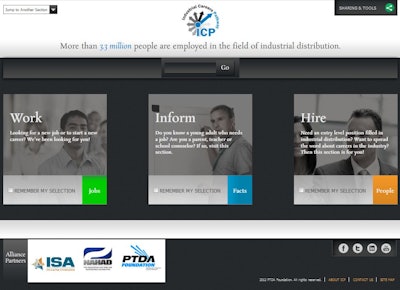 New Website Attracts More Job Seekers to Industrial Distribution Jobs
Chicago, IL — Effectively connecting with Millennials to let them know about the incredibly rewarding careers in industrial distribution means speaking to them through the communication vehicles they use. With the Internet usage habits of a Millennial audience top of mind, Industrial Careers Pathway® (ICP) completely overhauled its website to attract more job seekers and inspire them to aim for careers in industrial distribution and manufacturing. The results are available at the newly designed, mobile-enabled www.industrialcareerspathway.org.
The site is divided into three sections: The Work section (aimed at the 18-34 year old job seeker) quickly directs job seekers to search out employers and jobs by directing them to post their resumes to the ICP Job Board. Social media feeds have been embedded into the site to help the viral spread of information over social media. Young viewers can also watch video testimonials about the great careers in the field of industrial distribution from real people. Open positions on the ICP Job Board show up in a dynamic feed on every page of the Work section, offering expanded exposure for employers' job postings.
The Inform section is for educators and parents of job seekers. The section was designed to tout the benefits of the field to individuals who influence job seekers and might pass along the information. "We want these influencers to know as much as possible about industrial distribution so they can guide their students or young adult children into this career path," said Mary Jawgiel, ICP program director.
The Hire section is for employers in industrial distribution and manufacturing. Here, employers will find links to the ICP Job Board and other useful resources to assist in recruiting, hiring and managing new employees. Some of the free resources available include:
Original articles written by ICP staff to assist industrial distribution employers in the quest for human resources ideas
Archives of the ICP Talent Tipsheet, a bi-weekly e-blast that summarizes and links to original articles by thought leaders on managing the Millennial generation
The free ICP Media Relations Guide to help employers generate publicity with local media to further promote the industrial distribution industry
The ICP Internship & Co-op Guide to help employers provide a meaningful experience for young workers
Hand-outs for employers to use to explain the industrial distribution career field when attending career fairs or other such public events
A PowerPoint presentation aimed at high school-aged audiences to further explain what industrial distribution careers are all about
And, of course, employers can use the site to link to the ICP Job Board where, once registered, free resume searches are available of the thousands of people who would like to seek a job in the field.
Visit the new ICP website, www.industrialcareerspathway.org.
About Industrial Careers Pathway®
Industrial Careers Pathway® (ICP) is a multifaceted North American workforce initiative supported by an alliance of industry associations that addresses the need for a skilled industrial distribution and manufacturing sales and customer service workforce for today and tomorrow. ICP links students and job seekers to career paths in industrial distribution and manufacturing through partnerships with local educators and employers. For more information about efforts being made by ICP to address the need for a skilled industrial distribution workforce, visit www.industrialcareerspathway.org or contact ICP at [email protected] or +1.312.516.2100.