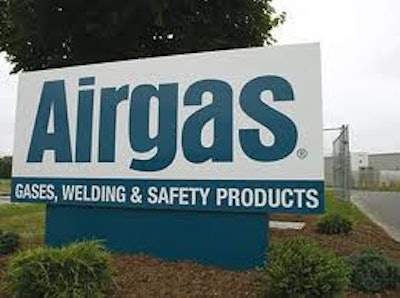 Airgas Announces Share Sale by Executive Chairman
Radnor, PA - Airgas, Inc. announced that Executive Chairman Peter McCausland has sold a total of 1.2 million shares of Airgas common stock in a privately-negotiated overnight block trade. McCausland sold the shares in connection with personal financial planning matters, including tax planning and the repayment of debt incurred to exercise a significant number of Airgas stock options in recent years and hold the resulting shares. Following the sale, McCausland's beneficial ownership of Airgas' common stock was approximately 7 million shares.
---
Airgas Issues $250 Million of 2.90% Senior Notes Due 2022
Radnor, PA - Airgas, Inc. announced it has priced $250 million of 2.90% senior notes due November 15, 2022. The offering is expected to close on November 26, 2012, subject to customary closing conditions. The notes are being offered under a shelf registration statement filed with the U.S. Securities and Exchange Commission.
The company intends to use the net proceeds from the offering for general corporate purposes, including to fund acquisitions, to repay indebtedness under the Company's commercial paper program, and to repurchase shares pursuant to the Company's stock repurchase program. Initially, the Company expects to use the net proceeds to repay indebtedness under its commercial paper program. The Company's long-term debt is rated BBB by Standard and Poor's Corporation and Baa2 by Moody's Investors Service.
About Airgas, Inc.
Airgas, Inc., through its subsidiaries, is one of the nation's leading suppliers of industrial, medical and specialty gases, and hardgoods, such as welding equipment and related products. Airgas is a leading U.S. producer of atmospheric gases with 16 air separation plants, a leading producer of carbon dioxide, dry ice, and nitrous oxide, one of the largest U.S. suppliers of safety products, and a leading U.S. supplier of refrigerants, ammonia products, and process chemicals. More than 15,000 employees work in approximately 1,100 locations, including branches, retail stores, gas fill plants, specialty gas labs, production facilities and distribution centers. Airgas also markets its products and services through eBusiness, catalog and telesales channels. Its national scale and strong local presence offer a competitive edge to its diversified customer base. For more information, please visit www.airgas.com.