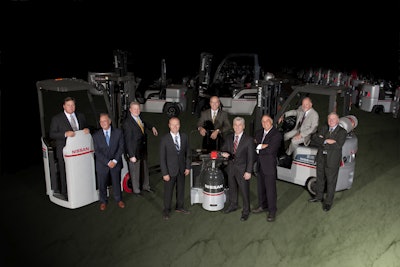 Marengo, IL – August 2012 – Nissan Forklift Corporation hosted a private celebration for the winners of its "Nissan Forklift Nine, Dealer of Excellence Award"for fiscal year 2011, which ended March 31, 2012. The Nissan Forklift Nine, Dealer of Excellence Award program is designed to reward and recognize the top nine Nissan Forklift dealers throughout North America that achieved the highest standards of sales excellence across the dealer network.
The Nissan Forklift Nine winners set the standard to which all Nissan Forklift dealers strive to achieve. All Nissan Forklift dealers are measured and evaluated in several major categories including unit sales, market penetration, aftermarket parts sales, professionalism, service and overall performance.
To achieve status as a Nissan Forklift Nine, Dealer of Excellence Award winner, each dealer has accepted Nissan Forklift's challenge and clearly displayed the ability to outperform previous goals, while creating a culture of professionalism within their organizations that delivers a unique and unexpected customer experience that truly represents the value of Nissan Forklift brand products and services.
The following nine dealers have excelled in these critical categories and earned the prestigious status as Nissan Forklift Nine, Dealer of Excellence for 2011:
Adobe Equipment Houston LLC - Houston, Texas - A. Kelly Williams
Capital Equipment & Handling - Hartland, Wis. - Gary Hansen
Forklifts of Minnesota - Bloomington, Minn. - Jeff Schubert
Forklift Systems, Inc. - Nashville, Tenn. - Duane Hardy
Hoj Forklift Systems - Salt Lake City, Utah - Tim Hoj
J.M. Equipment Co., Inc. - Manteca, Calif. - Audie Burgan
J.V. Equipment, Inc. - Edinburg, Texas - Jim Mehis
Material Handling Supply - Brooklawn, N.J. - Robert Levin
M&L Industries, LLC - Houma, La. - Steven Marmande
Nissan Forklift congratulates each of its distinguished 2011 Nissan Forklift Nine, Dealer of Excellence program winners. All have proven their dedication to Nissan Forklift through achievement of this award, as well as their continued contributions as members of its Dealer Advisory Council throughout the next fiscal year. During this one-year commitment, each member of the Dealer Advisory Council will offer their leadership, by providing an important voice for all Nissan Forklift dealers, and collaborating with NFC on issues that help strengthen the brand in the North American market.
Photo caption, From left to right: Audie Burgan, J.M. Equipment Co.; Robert Levin, Material Handling Supply; John Mac Farlane, Adobe Equipment Houston; Tim Hoj, Hoj Forklift Systems; Jeff Schubert, Forklifts of Minnesota; Duane Hardy, Forklift Systems; Jim Mehis, J.V. Equipment; Gary Hansen, Capital Equipment & Handling; and Henry Hannan, M&L Industries.

About Nissan Forklift Corporation
Nissan Forklift Corporation designs, manufactures and supports a complete line of material handling equipment that delivers features resulting in greater dependability, higher productivity and lower operational costs. Headquartered in Marengo, Ill., Nissan Forklift has a network of more than 100 authorized dealerships with over 225 locations across North, South and Latin America, as well as additional worldwide locations. www.nissanforklift.com
For more information, contact Nissan Forklift Corporation, 240 North Prospect Street, Marengo, IL 60152. Phone (815) 568-0061, Fax (815) 568-0179, visit www.nissanforklift.com or send email to [email protected].