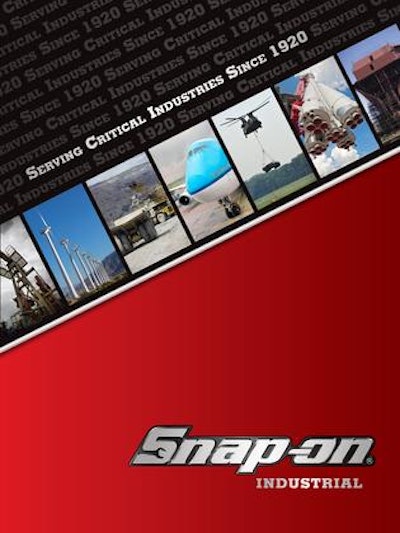 Kenosha, WI – If you're looking for easy-to-find updated information on all of Snap-on Industrial's professional products, there's only one place to look - the new Snap-on Industrial catalog.
The 800+ page catalog includes performance and specifications on all Snap-on Industrial tools and equipment. The new Industrial catalog is available in bound (BNDCAT1200i) or 3-hole (3CAT1200i) format for ease of use.
Other features of the new Snap-on Industrial catalog include:
Information on more than 25,000 products
Seven easy-to-access sections, color-coded by application: tool sets and custom kitting; tool management and safety; fleet repair; facilities maintenance; industry specific applications; heavy duty bolting; and assembly
Thousands of new SKUs and callouts to new and expanded products and programs
Large color photos of thousands of tools and equipment with information on product code, sizes, descriptions etc.
Convenient charts and information on torque, explanation on torque principles and why torque is important
Alphabetical tool index to pinpoint exact page number for specific tools and equipment
For more information about the new Snap-on Industrial catalog, or to receive your free copy, call 877.740.1900; email [email protected]; or visit: www.snapon.com/industrial.
About Snap-on Industrial
Snap-on Industrial is a division of Snap-on Incorporated, a leading global innovator, manufacturer and marketer of tools, diagnostics, equipment, software and service solutions for professional users. Products and services include hand and power tools, tool storage, diagnostics software, information and management systems, shop equipment and other solutions for vehicle dealerships and repair centers, as well as customers in industry, government, agriculture, aviation and natural resources. Products and services are sold through the company's franchisee, company-direct, distribution and Web-based channels. Founded in 1920, Snap-on is a $2.9 billion, S&P 500 Company headquartered in Kenosha, Wisconsin.