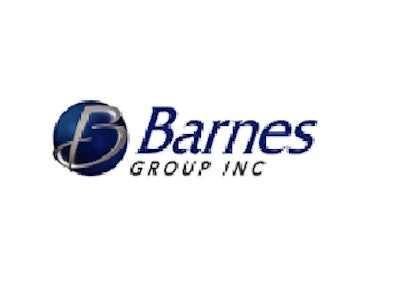 Barnes Group Inc. Appoints Patrick J. Dempsey, Chief Operating Officer and Aligns Global Business Units into Three Reporting Segments
BRISTOL, Conn. - Barnes Group Inc. (NYSE: B) today announced the appointment of Patrick J. Dempsey as Senior Vice President and Chief Operating Officer. The Company also announced the realignment of its business units to better serve its customers and to accelerate growth. This organizational realignment results in three reportable segments: Aerospace, Industrial and Distribution.
"Following the successful divestiture of our Barnes Distribution Europe businesses and the implementation of our targeted, customer-focused aerospace strategy, this realignment is the next logical step in positioning Barnes Group for long-term profitable growth," said Gregory Milzcik, President and Chief Executive Officer of Barnes Group Inc. "Patrick has served as an integral member of the leadership team for over a decade – helping to develop and implement strategic initiatives to drive growth and optimize our operational effectiveness and profitability. Patrick's experience and expertise makes him well-suited to lead our operations globally."
Barnes Group's new structure is designed to provide increased customer service, drive product differentiation, and accelerate the Company's growth initiatives.
Barnes Group's three business segments are:
Aerospace – a producer of precision-machined and fabricated components and assemblies for original equipment manufacturer ("OEM") turbine engine, airframe and industrial gas turbine builders throughout the world, and for the military; a provider of jet engine component overhaul and repair services for many of the world's major turbine engine manufacturers, commercial airlines and the military; and a manufacturer and provider of aerospace aftermarket spare parts and the repair of aerospace engine components.
Industrial – a global supplier of high quality manufactured precision components for critical applications serving diverse industrial end markets, such as transportation, energy, electronics, medical and consumer products.
Distribution –an industry leader in logistics support through vendor managed inventory and technical sales for maintenance, repair, operating and production supplies, as well as the design, manufacture and distribution of engineered supplies for the global industrial base.
Mr. Dempsey has been with Barnes Group since 2000, most recently serving as Vice President, Barnes Group Inc. and President, Logistics and Manufacturing Services. In his new role, Mr. Dempsey will have full responsibility and oversight of the three business segments and continue to report to Greg Milzcik, the Company's Chief Executive Officer. "I have the utmost confidence in Patrick and look forward to working with him as COO as we continue our efforts to achieve operational excellence, superior customer service, and enhanced growth in today's global marketplace," said Milzcik.
Beginning in the first quarter of 2012, the Company's segment information will be reported under the new segment structure and previously reported segment information will be adjusted on a retrospective basis to reflect this change.