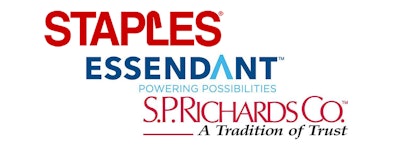 Staples isn't giving up on its hopes to acquire workplace essentials distributor Essendant.
On Aug. 13, the office products retailer reached out to to Essendant via a letter filed with the US Securities and Exchange Commission claiming that Staples' previously presented offer of $11.50 per Essendant share is "superior" to the offer Genuine Parts Company has given for a merger with its subsidiary S.P. Richards (SPR).
Staples' letter noted how Essendant's current stock price of $15 per share ($15.34 as of 9 a.m. Monday morning) was due to takeover speculation and that there is "no basis" for the current trading outlook of a combined Essendant/SPR. Staples' letter included a series of slides illustrating a timeline of Essendant's stock price and what has caused its recent movements, SPR's adjusted EBITDA outlook, Essendant's trading multiples outlook and a comparative valuation between SPR's proposal and Staples'. One of those slides calls SPR a "slow-growth merger candidate with weak outlook", and another says there is "no basis to assume Essendant/S.P. Richards would trade at 8.0x multiple, especially given S.P. Richards' declining financial profile."
Staples claims that following the Essendant-SPR merger announcement on April 12, Essendant's trading value was below $10/share and that Essendant would currently be trading below $5 ($4.54) on a standalone basis. Staples slides also showed Essendant's nearly $2 drop in trading value immediately following a "disappointing" Q1 earnings report on April 25 and then its strong growth from May 1 onward following "Staples begins building stake in Essendant", along with Staples filing a 13D with its $11.50/share proposal on May 16.
Responding to Staples' letter, Essendant posted a statement to its investor news website, acknowledging Staples' letter and reiterating Essendant's intent to merge with S.P. Richards. Essendant's statement included:
"Essendant's second quarter performance demonstrates that the company's actions to evolve its business and support customers in the face of a rapidly changing landscape are producing results. The Essendant Board and management team are confident that bringing together the complementary strengths of Essendant and S.P. Richards will accelerate those efforts by creating a combined company with greater scale, expanded service capabilities and an enhanced ability to help customers compete while delivering compelling value to stockholders. The combined Essendant and S.P. Richards will be a fundamentally stronger company with increased free cash flow, higher margins and a stronger balance sheet as well as the opportunity to benefit from the ability to unlock more than $75 million in annual run-rate cost synergies through sourcing, supply chain and selling, general and administrative efficiencies and over $100 million in working capital improvements."
Essendant said it has proceeded mailing its proxy materials to all S.P. Richards merger stakeholders as of the close of business on Aug. 8, and scheduled a stockholder meeting for Oct. 8 to approve the issuance of Essendant shares for the merger transaction and is working toward obtaining regulatory approves. Essendant expects the transaction to close before the end of 2018.
"Following receipt of Staples' non-binding, unsolicited proposal to acquire Essendant for $11.50 per share or more in cash on April 29, 2018, Essendant provided a confidentiality agreement to Staples on May 17, 2018 to enable discussions between the parties," Essendant said. "Staples executed the confidentiality agreement on August 3, 2018, but, to date, has not presented Essendant's Board with a proposal the Board can act upon."
"The merger agreement with Genuine Parts Company regarding the S.P. Richards transaction remains in effect, and the Essendant Board of Directors has not changed its recommendation that Essendant's stockholders vote in favor of that transaction."