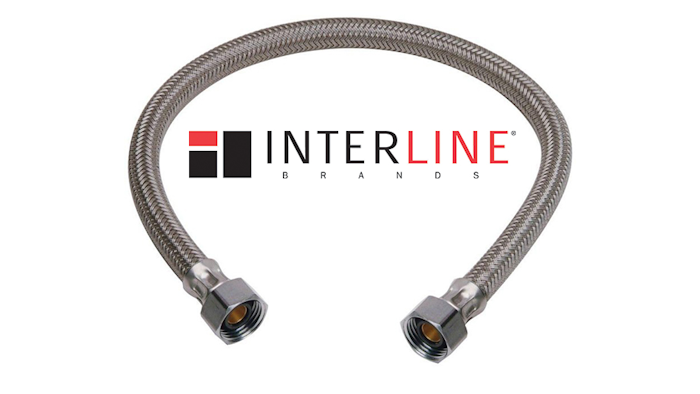 Interline Brands — No. 14 on Industrial Distribution's Big 50 List — has agreed to pay $16.5 million to settle a class action suit alleging a faulty toilet part Interline distributed causes flooding, which the company still disputes.
On Tuesday, April 24, a settlement was filed in Tennessee federal court stating that MRO products distributor Interline will pay $16.5 million into a common damages fund to resolve all released claims that the coupling nuts of Interline's DuraPro Toilet Connectors are defective. The settlement states the alleged defect arises because "the coupling nut is unable to handle the stress during installation, causing creep within the coupling nut that ultimately leads to a circumferential fracture where the coupling nut's side wall meets its base, permitting water to flow unabated into homes and other structures and thereby causing property damage."
The original plaintiff, Jacquelyn Ajose of Pennsylvania, says that in June 2014, she discovered that Interline's DuraPro brand toilet connector failed in a third-floor bathroom, causing water to run unabated throughout her home. As a result, Ajose suffered substantial out-of-pocket damages, including payment of her property insurance deductible. Three other homeowners joined the lawsuit in an amendment.
The plaintiffs alleged that Interline was aware of design and material selection defects in the coupling nuts on its toilet connectors sold throughout the U.S., but never notified the consuming public of their potential to fail due to the alleged defects. The consumers claimed the coupling nut "failed to adhere to the most basic design standards in the plastics industry."
Interline sought to introduce evidence during expert discovery of a claims rate to show only .02 percent of these Coupling Nuts will fail.
"Although we do not agree with the claims made, Interline is glad to put this matter to rest," Interline said in a statement to legal news service Law360. "We take great pride and care in the quality of the products we sell."
The settlement would put to rest claims that were brought against Interline almost four years ago on August 20, 2014, with the amendment made about one year later. The suit alleges Interline received the toilet connectors from China and distributed them throughout the U.S. The amended complaint says Interline admitted that it did not test the connectors before distributing them, and employees have known of the alleged defect since at least 2007.
The settlement states the claims involve a "universe of a potential 2.9 million Toilet Connector sales." 
The settlement class would include everyone who owned or leased a structure with a toilet connector at issue, or people who otherwise endured property damage from the product. The notice says members of the settlement class would be eligible for a $4 reimbursement for each toilet connector either still in their residence or that they already replaced, with a $20 maximum reimbursement. Members of the settlement class who suffered property damage from the allegedly faulty parts would be eligible for a recovery between $4 and 30 percent of the property damage, according to the filing.
Tuesday's settlement notice shows that, pending approval, a final settlement hearing will be held Sept. 27 of this year.
Interline Brands is owned by Home Depot, which purchased the distributor in 2015 for $1.63 billion.