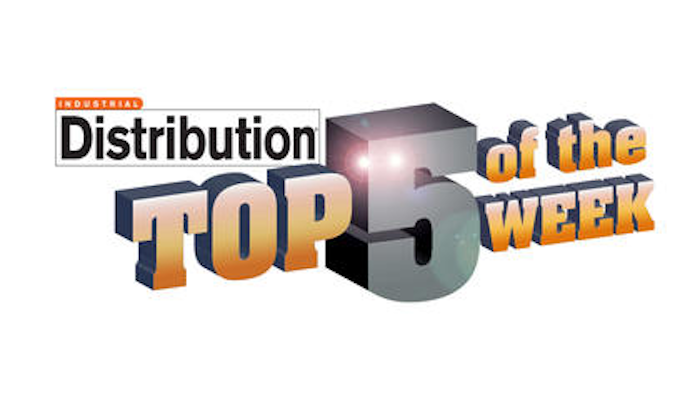 ​Grainger dominates this week's Top 5 with a sluggish quarterly financial report and news of potential expansion, while fellow Big 50 list companies Fastenal, MSC Industrial and ERIKS-owned Lewis-Goetz were each big items as well.
Here's this week's Top 5:
Grainger Cuts Outlook After Q1 Profit Decrease: Reported Thursday, ID's No. 3 Big 50 company had Q1 total sales of $2.44 billion, a year-over-year increase of 2.3 percent over Q1 2014. Net earnings decreased 2.6 percent YOY to $211 million. Grainger said continued headwinds from the strong U.S. dollar and weakness in the oil and gas sector in North America hampered the quarter. The company plans to add 400 sales reps in 2015, and lowered its full year sales growth outlook to 1 to 4 percent, down from the 3 to 7 percent in its initial guidance.
Grainger Eyeing Minooka, IL And South Carolina For Expansion: Shared Friday afternoon, an article published by The Morris Daily Herald in Morris, IL last Wednesday revealed that Grainger is considering Minooka, IL and an unnamed location in South Carolina as prospective expansion locations. The article states that Grainger's director of real estate and development, Donald Hansen, was the one who named the two locations in competition, and that Grainger is seeking a four-year, 50 percent tax rebate incentive for a proposed 1 million square-foot expansion. The new building will be between 1 million to 1.3 million square feet and will add at least 130 local employees, with a project start date of 2016 and to be operational in 2018.
Lewis-Goetz Acquires Action Industrial Group​: Lewis-Goetz recently announced that it has acquired Action Industrial Group, a South Carolina-based fabricator and distributor specializing in fasteners, gaskets, hose products and industrial construction tools and supplies. The acquisition will add seven Southeast locations to the Lewis-Goetz footprint, as well as considerable gasket fabrication technologies. Action Industrial Group has 78 employees and had $21.5 million in net sales last year. The financial terms of the deal have not been disclosed.
Jack Keough: MSC Industrial, Distributors Streamlining The Supply Chain (Blog)​: ID contributing editor Jack Keough discusses what came out MSC Industrial's post-Q2 earnings conference call last week, which included some interesting comments from CEO Erik Gershwind about industry consolidation and the importance of improving supply chain efficiencies.
Fastenal Q1 Profit Beats Expectations, Sales Miss: Reported Tuesday, ID's No. 12 Big 50 company posted Q1 total sales of $953.3 million, an 8.8 percent increase year-over-year from Q1 2014. The figure was just shy of Reuters analysts' predictions of $955.19 million. Daily sales for Q1 were $15.1 million, compared to Q1 2014's $13.9 million. Net earnings for the quarter rose 14.0 percent to $127.6 million, beating analysts' predictions. While earnings exceeded expectations, Fastenal said sales were hit hard by a slowdown in its business connected to the oil and gas industry. Net sales were also hurt by slight inflationary price changes in non-fastener products.