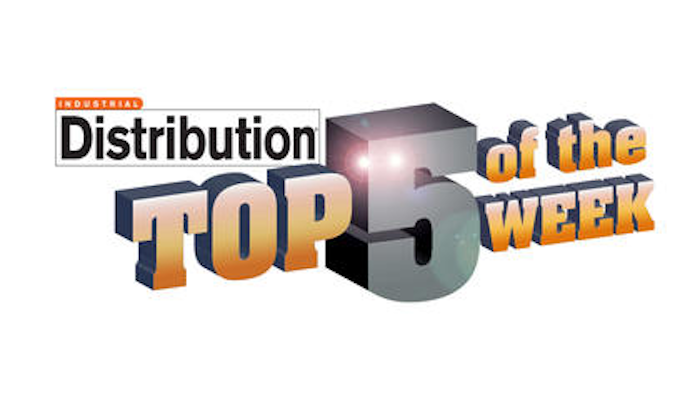 ​Much like last week, these past seven days were loaded with major news in the industrial distribution market. Our biggest items all involved companies in the top 20 of ID's 2014 Big 50 List, including Interline Brands being purchased, Fastenal re-appointing a familiar face as CEO, and Grainger's latest quarterly earnings. Be sure to also check out our Industry Insider on Amazon Business and what it means for distributors.
Here's this week's Top 5:
Home Depot To Buy Interline Brands For $1.63B: On Wednesday, home improvement retailer The Home Depot announced it has agreed to purchase Jacksonville, FL-based MRO distributor Interline Brands – No. 17 on the Big 50 – for a price of $1.63 billion. The transaction is expected to be completed during The Home Depot's fiscal third quarter, which ends Nov. 1. Interline has a distribution network of more than 90 locations throughout the U.S., Canada, and Puerto Rico. Its 2014 full-year sales totaled $1.68 billion, a 4.9 percent increase over 2013. The company reported a net loss of $47 million, after a loss of $6.34 million in 2013. Most recently, Interline had Q1 2015 sales of $411.7 million, a 4.9 percent year-over-year increase, and a net loss of $3.8 million for the quarter.
Free Webinar: Managing the Digital Transformation in Distribution
Fastenal Reappoints Oberton As CEO: According to a form filed Monday by Fastenal to the Securities and Exchanges Commission, former Fastenal CEO Will Oberton will return to the company less than seven months after resigning from his post last December. The form states that Leland Hein and Oberton have agreed that Hein, 54, will step down into the role of COO, while Oberton re-assumes his old role of President and CEO. Both changes were effective as of July 20. Fastenal says Hein will continue as a company director and oversee
operations and sales, while Oberton will oversee financial, information technology, and human resources. Under Hein, Fastenal's 2015 Q1 sales rose 8.8 percent year-over-year and profit grew 14.0 percent. The company's Q2 earnings – shared July 14 – were strong as well with a 5.0 percent YOY sales growth and 7.5 percent profit growth.​ Oberton, 57, served as the Fastenal's CEO from December 2002 to December 2014, and as president from July 2001 to July 2012, when he relinquished that position.
Grainger Cuts Outlook Again, Though Q2 Profit Rises: Grainger reported its 2015 second quarter financials this past Friday for the period ended June 30. Grainger – No. 3 on The Big 50 – reported Q2 sales of $2.5 billion, a 1 percent year-over-year increase over last year. Profit for the quarter increased 7 percent YOY to $221 million. Though it was a gain compared to Q1's 2.6 percent YOY profit decrease (to $211 million), the company lowered its 2015 outlook, as it did after Q1. Grainger President and CEO Jim Ryan said the company now expects 0 to 2 percent sales growth for the year. That range is down from when the company previously lowered its outlook to 1 to 4 percent sales growth in its Q1 earnings report.
Industry Insider: What Does Amazon Business Really Mean For Industrial Distributors?: ID executive editor Anna Wells and myself discuss the impact of newfound Amazon Business on industrial distributors, with insights from Prentis Wilson - Amazon Business Vice President, and Petra Schindler-Carter - Amazon Business Marketplace Director and General Manager. Do you see Amazon Business as a friend, or foe for your business?
Motion Industries Q2 Sales & Profit Dip, EIS Inc. Gains: Atlanta, GA-based Genuine Parts Company, the parent company of Motion Industries and EIS, Inc., announced Monday its earnings for the 2015 second quarter and six months period ended June 30. GPC had Q2 sales of $3.94 billion, up 1 percent year-over-year. Profit was $195.4 million, down 1.2 percent from last year. Sales at Motion Industries – No. 9 on The Big 50 – were $1.18 billion, down 1.7 percent from last year. GPC said the decrease represented the Motion Industries' underlying growth, as a 1 percent contribution from acquisitions was offset by an equal currency headwind. Motion Industries' Q2 operating profit was $88.9 million, down 6.8 percent from a year ago. For GPC's Electrical/Electronic Group – EIS – Q2 sales of $194.7 million were up 3.6 percent from last year, while operating profit was up 12.8 percent to $18.6 million. GPC said the sales increase included approximately 6 percent growth from acquisitions, a 2 percent decrease in core sales, and a 0.5 percent negative impact from copper pricing. EIS was No. 26 on The Big 50.