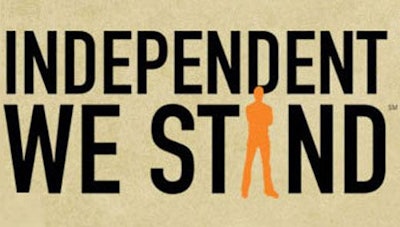 Independent We Stand describes themselves as "a movement of independent business owners across the country to inform their communities about the importance of "Buying Local" and how these efforts bolster their local economy. This movement supports all local and national causes committed to boosting local economic development projects."
The more I learned about the organization the more I knew that I had to share the organization with the AD community.
The organization is sponsored by Stihl, Inc. - a company that has clearly placed their bet with independent businesses across the US. Many of you may have even seen their advertising campaign that boldly asks the question; "Why is the number one selling brand of chainsaw not sold at Lowe's or the Home Depot". (More on this ad campaign in a future blog)
The most eye-opening part of my investigation of Independent We Stand was when I discovered the information provided regarding the impact of "Buying Local";
WHY BUY LOCAL*
When you spend $100 at an independent business, $68 returns to the local community. Spend that same amount at a national chain and it drops to $43.
Small business accounts for 75% of all new jobs.
Locally owned businesses reinvest in the local economy at a 60% higher rate than chains and Internet retailers.
Small businesses create more than half the non-farm private gross domestic product (GDP).
Locally owned and operated businesses create higher-paying jobs for you and your neighbors.
More of your tax dollars are reinvested in your community to fund local schools, hire more police officers and improve roads.
Another compelling discovery was the calculator that allows you to see the impact of redirecting $10 per month to purchases from a locally owned store instead of a national chain. www.IndependentWeStand.org/spend_local
One of the examples given was for Houston, TX where the calculator showed that if the local residents spent just $10 each month at independently owned stores, it would result in over $163M coming back to the Houston economy by way of payroll taxes and local expenditures!
After reviewing the facts above and considering our own cause at AD, I couldn't help but ask myself whether I was "walking the talk" as it pertained to support of independent business. How many times do I choose to eat at chain restaurants instead of patronizing the local establishment? How many times do I go into a "Big Box" instead of the local hardware store?
I encourage you to visit www.independentwestand.org and check it out. I think you will find that it has a familiar "feel" to it.
By the way; don't look for me at Chili's. :)
Jack Templin
President, Industrial Supply Division
Follow Jack on twitter @jdtemplin.
*Sources: Civic Economics – Andersonville Study of Retail Economics; U.S. Chamber of Commerce – Small Business Nation; Civic Economics – San Francisco Report on Retail Diversity; U.S. Dept. of Commerce, Bureau of the Census; Buy Local Berkeley.