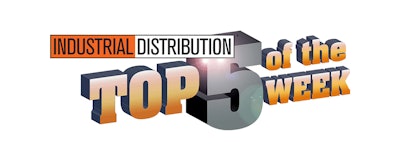 Two new rankings list — one highlighting industrial distributors' e-commerce offering, and the other showing that distributors were named among "Best Companies to Sell For", led the way this past week on ID.
Here's this week's Top 5
Survey - Grainger Tops Industrial Distributor E-Commerce Rankings, HD Supply 2nd: B2B credit management and automation service provider Apruve has released its rankings of the top industrial distributors by their e-commerce offering, with Grainger and HD Supply topping the list. See who else made the top 20 and beyond.
Kimball Midwest, Lawson Products Named to Selling Power's 2018 "50 Best Companies to Sell For": Selling Power, a digital magazine for sales managers and sales vice presidents, released its 18th annual ranking list of the best companies to sell for among the top sales forces in the U.S., and it includes a pair of distributor regulars on ID's Big 50 List.
Are Your Customers Price-Shopping… Within Your Company?: Each instance of a sale at lower than intended price, due to a lack of "sales pricing discipline", is a reduction in net profit. It is easy money, lost. Here, Mark Tomalonis explains the importance of emphasizing this pricing discipline, and provides tips on how.
Automating the Quoting Process in a World of Custom Demand - How Distributors Are Breaking Ground With CPQ: In a complex environment of increasingly demanding customers, low margins and a growing roster of competitors, configure-price-quote solutions can do much more than help a distributor issue accurate quotes. Here's how distributors can create more opportunities, cut costs, and build a customer-centric market reputation by leveraging CPQ.
Industrial Distribution's 2017 Big 50 List: We're now less than a week away from starting to unveil our 2018 Big 50 List via a three-part video countdown, which starts on Aug. 23. Our 2017 list continues to gain traffic as the new list edges closer.