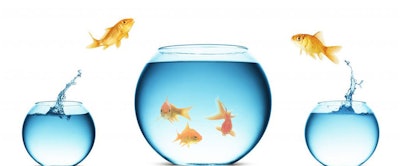 It's a given that distributors highly value product quality when it comes to investing in suppliers. Industrial Distribution's 2017 Survey of Operations showed that 80 percent of respondents picked 'Quality' as the most important criteria when evaluating suppliers.
Alongside quality, the element of supplier relationships is crucial. ID's survey showed that while 56.4 percent of respondents said their supplier relationships stayed the same over the past year, more than 14 percent said their relationships had gotten worse. Beyond that, 22.5 percent said the level of support from suppliers had gotten worse in the past year, and 84 percent said suppliers had increased their prices in the past year.
With these stats, it's no surprise that distributors have been increasingly consolidating their supplier base in recent years. Fewer suppliers are easier to manage, and traditional thought is that relationships with fewer suppliers will be stronger than with many.
I recently spoke with Chris Baby, president and CEO of SureWerx — a single-source supplier for industrial, construction and automotive aftermarket distributors. I asked him a series of questions regarding evolving dynamics between distributors and suppliers and the outlook for future consolidation.
Here's how our conversation went.
ID: How would you say the distributor-supplier relationship has changed over the past 10 years in terms of distributors' amount of expansion or consolidation of suppliers? Has it held steady, been up-and-down, been trending toward one or the other throughout?
BABY: Over the past decade, one economic event has played a significant role in the evolving relationship between distributors and their manufacturing partners. The impact of the fiscal crisis in 2008/2009 has led to a strong move by distributors to consolidate their supplier base.
Out of basic survival, distributors began to consolidate their suppliers to drive down overall business costs. Distributors are now seeing the value of working with a strong manufacturing partner that can bring complementary product portfolio lines that streamline the overall process of bringing multiple innovative solutions to their customers, the end-users.
ID: As a distributor's business improves, it's natural for them to add more product lines. Why does it make the most sense for distributors to align closer with fewer suppliers — or a one-source supplier — instead of distributing products from as many suppliers as financially feasible?
BABY: For distributors looking for a unique partner that they can work with to educate their customers across multiple product categories and provide them with innovative solutions that they want, it makes the most sense for distributors to team up closely with a one-source supplier like SureWerx.
A distributor may offer hundreds of thousands of products to their customers and for them to be an expert in all those products is just not feasible. You could argue that there is a risk that they are putting all their eggs in one basket when distributors align closely with one-source suppliers but the reality is that there remains tremendous fragmentation across their supplier network. It doesn't matter how much supplier consolidation goes on because one-source suppliers like SureWerx will still typically comprise only a very small component of a distributor's overall portfolio.
Users look at the manufacturer as the product expert and the distributor as a trusted intermediary and we believe the relationship between the manufacturer and the distributor will continue to grow in importance as we move forward and contrary to many, we believe a stronger relationship will actually complement the continued rise in e-commerce.
ID: What are the key areas of the relationship that typically become strengthened through distributors consolidating suppliers?
BABY: Whether we like it or not, we're humans. When genuine trust is developed in relationships, as a true partner with our distributors, SureWerx gains a better understanding of how we can deliver meaningful solutions to innovate end-user worker safety and productivity. For distributors, they see the value in having a trusted contact in certain situations instead of flipping through a rolodex of contacts. This relationship improves efficiency, reduces costs and encourages product innovation over the long-term. Partnerships between distributors and one-source suppliers present a win-win situation for both parties and most importantly, the end-user. For distributors, they can focus on what they do best — selling not just products but solutions to their customers and for suppliers, they can focus on continually improving products to help drive innovation with those solutions.
ID: Does supplier consolidation make sense for distributors of all sizes, or is there a certain demographic that it would be most effective for?
BABY: Supplier consolidation makes the most sense with small to medium-sized distributors. These distributors benefit the most from streamlining their supplier base; they reap the benefits when it comes to saving costs in vendor relationship management and in improved collaboration for product innovation. As cost reduction remains a top priority for CPOs, we believe this supply chain management strategy will only grow in popularity in the industrial arena.
A fundamental opportunity exists for us to help the distributors and their customers be more effective in their daily work. We are not simply identifying products we can supply but also what pain points exist in their current processes to provide an encompassing solution that solves real business problems. And that is how we are ALL winning.