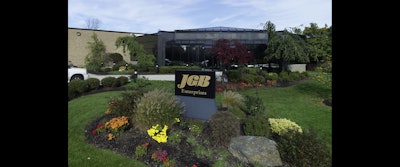 Excerpt from Mr. Jay G Bernhardt on the humble beginnings of JGB Enterprises Inc:
I started JGB as the only employee, during the first week of January 1977. I started in the last building on Moore Road in DeWitt, NY, next to the New York State Thruway and Brook-Lawn Golf Course. It was a small machine shop and office, with rent of roughly $300 per month.

I had one desk in the office, and my warehouse was in the machine shop. JGB's first order was for 50 feet of sandblast hose from Syracuse Ladder. I bought 100 feet on credit from Boston Woven Hose's Jim Duffy, cut it in half and delivered 50 feet with my El Camino delivery truck. The balance 50 feet was stored on a horizontal milling machine. JGB's first square footage was less than 1,000. About three months later I enticed Dave Emmons to quit Goodall and come to work for me at JGB Enterprises. He handled the inside and I handled outside. Dave was paid $150 per week, and I lived off of my wife Kathy's paycheck from NY Tell. About three months later, Jim Slater was also "stolen" from Goodall. The three of us ran JGB for a year and a half before we hired Carol Ketchum, and we remained on Moore Rd. for another 2 years.

Emmons kept the books, on "cards", and we did exactly $300,000 to the penny our first year. The following year Goodall closed down their Liverpool office and JGB did $600,000 in 1978. In 1979 JGB was off and running, pulling in $1 million and moving into a 4,500 square foot building at 106 Metropolitan Drive in Liverpool, NY. Two years later JGB added 5,000 square feet, and so began the beginnings of the many expansions of our little "Mom & Pop" hose house.

~Jay Bernhardt, Owner JGB Enterprises, Inc.
In the midst of the early years, Jay Bernhardt decided to get into the defense contracting business. His longtime hire, Marty Salanger, led the charge by building a team around him that has generated some of the largest small business contracts under cage code 61125. The military division sells to the Department of Defense, all branches of our military, defense prime contractors, OEM's, and related companies. The flagship order generated by Salanger came in October of 2005 for the USAF awarding of the Basic Expeditionary Airfield Resources (BEAR) that converted brackish water into potable drinking water and many supporting systems value over $40 million. The complex water system included thousands of hose assemblies to convey from potable water to raw sewage. In 1983 Bernhardt also hired Dana Thurston, who had expertise in hydraulic hose assemblies, to kick off the high pressure hose assembly business.
In 1984 JGB Enterprises moved from 106 Metro to what is now its major manufacturing hose assembly facility at 115 Metropolitan drive in Liverpool, NY. The facility has seen many additions due to the rapid growth in sales, including capital equipment investments, hose assembly equipment, testing and a state-of-the-art operations center. The very first satellite branch was launched in 1982 in western New York in a suburb just outside of Buffalo. Josh Defino, who is now the VP of operations, rapidly grew sales in Buffalo with his team.
For much more on JGB Enterprises and its current activities, check out Industrial Distribution's May/June Distributor Profile of the company here.
In 1987 JGB kicked off its National inside sales team, started by current customer service manager Mark Consroe. Peter Delvecchio currently oversees the national inside sales team, and he's grow the department exponentially. The primary responsibility of this group is to sell niche markets. There will be more on this later. In 1990 we added 30,000 square feet to the Liverpool hose assembly facility, and another 15,000 in 1996. We bought a building in 1999 that serves as manufacturing and value-added services, which we refer to as the 'generation power building' and is contiguous property.
In 2000 Mr. Bernhardt decided to step back from the day-to-day operations and return to the area where he was raised in Richfield Springs, NY. He revitalized the town with job creation, restoration of historic buildings and many other rewarding projects. He entrusted his people to take the charge and lead JGB Enterprises into the future. Robert Zywicki proudly took on the challenge to grow the company further as JGB president.
Sales in 2000 were approximately $22 million with around 50 employees. At this time, executive vice president Steve Starrantino realized that our geographic blue print needed to expand in order to reach customers in different regions. The impetus for this was when Carrier Corp., a UTC company, moved operations out Syracuse to Charlotte, NY. He went on a trip to recruit a potential branch manager and hire Ron Ugalde, who is now the director of sales.
In 2005 we started a Midwest hub in St. Louis to reach new markets such as agriculture and other manufacturing/distribution markets. In 2006 the continued expansion to the Liverpool hose assembly facility with an additional 15,000 square feet. Zywicki realized that with the major defense work and rapid expansion of the commercial hose assembly business, we needed to add up the block from corporate a 30,000 square foot building back in 2001 and 2006. These twin facilities offer state of the art manufacturing, work cells, testing, and warehousing. In 2014 Starrantino put a strategic location in Williston, ND by hiring John Lucero. This was design to support the oil and gas boom created by hydrofracking.
In 2015 we had a facility put into Houston to once again address the major oil and gas markets. This July 2017, the large diameter hose efforts of JGB Enterprises will have a much larger facility in Houston with the additional growth in this region and the many diverse markets outside of oil and gas such as environmental remediation, dewatering, OEM, chemical and refinery business.
Our company started a defense contracting division in 1981, quickly becoming a leader in manufacturing QPL hoses. We have become the largest supplier in the U.S. of manufactured military specialty hose assemblies. We support applications from high pressure hose assemblies used on military tactical vehicles such as the MRAPS, to the next generation JLTV's. In addition to high pressure hose, we manufacture hoses for troop support such as potable water and fuel transfer in an effort to support fuel and water activities. We also supply hose assemblies for naval ship board requirements like metal line steam hose, fire hose assemblies, waste water (sewage) and potable water for drinking. We are also an original equipment manufacturer of jet refueling hose assemblies and fire equipment to defense contractors and Department of Defense.
During the war efforts of 2003, JGB executive vice president Steve Starrantino worked with the U.S. Air force to manufacture a 70-mile lay flat fuel hose assembly line order to directly support the troop efforts for fuel transfer. The defense market has been kind to JGB enterprises, as the company has become the top-ranked supplier of manufacture military specification hose assembly's federal class 4720. There is a division of government sales referred to as buy-sell, led by Ginny Youmell.
The focus of what JGB has now become is the national platform for being a manufacture of hose assemblies. Over the years we have added concrete pumping, snow making, pressure washer hoses, waterblast, airless paint spray, LPG fuel hoses, sandblast, mine spray, carpet cleaning, garden hose assemblies, fire hose assemblies, jack hammer-compressor hose, large diameter hoses (LDH) frack hose, oil pressure pumping, metal hose assemblies and custom-made hoses. More on that here.
During this development of becoming the category king for hose assembly manufacturing, JGB Enterprises started launching its own private label in the early 1990's under the "Eagle Brand". Our branding has become a world-class name in the manufacturing of hose assemblies. Our global material manager Ryan Thurston works closely with raw material suppliers to ensure timely delivery to meet the demands of our customers, as proper planning is paramount to our success.
During this time, we have built, purchased and expanded our corporate operation in Liverpool to five buildings and over 200,000 square feet of manufacturing and office. As previously discussed, we have added multiple location to give us a U.S. reach to any location within 24 to 48 hours. We can take orders for one hose assembly to thousands and process timely.
We have over 250 employees, well over 300,000 square feet of manufacturing and warehouse space, multiple in house testing facilities, state-of-the-art fabrication equipment that included 2- to 12-inch crimpers throughout the U.S. in an effort to augment our capacity and sales reaching over $125 million last year, making us reach Industrial Distribution's Big 50 list of the largest industrial distributors.
Our hose assembly platform translates into the manufacturing of up to 400-plus hose assemblies in a day. We can provide tagging information with a unique serial number for traceability and lifecycle management. Our military pedigree provides us with the necessary focus on the details that guarantee a quality hose assembly each and every time. We are so proud to announce to the industry that our manufacturing of hose assemblies is the most robust and diverse in the market place. We have proudly become the category king for the manufacturing of hose assemblies.