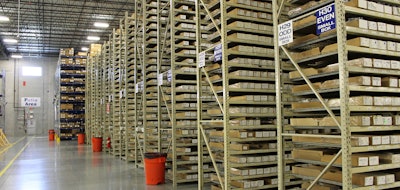 From a recent Q&A interview with Helgi Thor Leja — Fortna's director of industrial distribution — and Charles E. Redding — a senior analyst at BB&T Capital Markets — see their thoughts on differentiating in the industrial distribution marketplace, the prospect of unbundling services and how to compete with Amazon.
This is part 1 of a two-part series. View Part 1 here, which focuses on business trends impacting industrial distributors.
If you were a CEO of one of the top industrial distributors, what three things would you focus your business on to differentiate yourself in the marketplace?
Redding (BB&T): We believe that speed, talent evaluation and information are three primary focus areas for industrial distributors seeking to further differentiate themselves versus industry peers. In terms of speed, we certainly expect a continued focus on DC operations, inventory management, and labor optimization for the foreseeable future. Additionally, select distributors will likely further pursue ongoing vending expansion initiatives for added account penetration and same-day order fulfillment. Fastenal has implemented a more comprehensive vending growth strategy, which the company believes is a $22B+ potential market opportunity long-term. Vending provides a cost-efficient, onsite inventory management solution that also enhances time-sensitive product delivery for clients. Fastenal has committed to adding 50 vending-specific sales staff (at least one per district, ~200 aggregate), and the company expects segment growth of ~40 percent over the next five years.
Fastenal is also looking to further integrate Onsite adoption among both existing and new customers (3,700 potential manufacturers identified for immediate implementation). The company has added 200 Onsite customer locations in 2016, representing an incremental market share of ~$1M per contract (estimated $22.5B+). Increased onsite adoption typically means reduced gross margin (30 percent below the company average given inherent pricing limitations). However, we expect the declines will be more than offset by a structural reduction in overhead (40 percent lower versus local stores) and improved overall profitability.
Talent evaluation and internal training will also be critical, in our view, for industrial distributors looking to further differentiate operations. In FY'15, HD Supply added 300 client-facing employees across each of the company's respective business segments. Additionally, HDS affirmed its commitment to talent enhancement last quarter, announcing, "As part of our commitment for long-term growth and leadership investment, we plan to open an HD Supply Leadership Development and headquarters facility in Atlanta in early 2018…to recruit and train talent, facilitate vendor and customer interactions and to drive enhanced functional team collaboration that extends competitive advantage."
We also view information, both in terms of collection and relevant application, as being critical to operational differentiation. Watsco continues to leverage its scale as a national HVAC provider, using technology to bridge the gap between traditional distribution and increased customer demands. Recently, the company announced the development of an integrated mobile phone app designed to streamline interaction with customers and contractors. With the tool, users have access to detailed product specifications, technical assistance, and itemized pricing information. Such advantages, in our view, are likely to facilitate enhanced customer interactions (and increased market share) for the company moving forward.
Finally, I'd add a fourth component to your question on differentiation — availability — which we believe goes hand in hand with both information and speed. Knowing who your best customers are, and having the right mix of relevant inventory on hand, is critical to achieving maximum fulfillment, in our view. With same-day availability in mind, Fastenal's ongoing store-based inventory expansion rollout (CSP) aims to increase customer retention through targeted merchandise optimization.

Leja (Fortna): We agree with the idea that speed, talent and data analytics are the hot buttons for today's distribution leaders. Due to changing consumer expectations, we are finding that speed is table stakes (or a bare minimum). Customers have always desired to have their orders delivered as fast as possible, but today fast is no longer 5-7 days. If you're lucky, fast enough is 2-3 days, but we are often dealing with customers who have grown accustomed to "order it today, get it tomorrow" capabilities made possible by Amazon and other online leaders. We joke that most customers "order it today, but expected it yesterday."
From a talent perspective, many of our clients tell us that they are challenged on two fronts: 1) in finding and hiring supply chain talent with the experience to meet today's challenges. There's lots of demand, but unfortunately the lack of experience with highly automated and more complex DCs is the root problem. And 2) labor availability is a limiting factor in how they staff and where they can locate distribution centers. The network analysis might say one thing, but the labor analytics must be thorough and robust enough to validate availability and access to talent.
Additionally, we think distributors will have to rethink both the warehouse and the work because the next generation of workers will change the landscape in many ways. Millennials view work-life balance differently than their predecessors and embrace technology as a means to work smarter, not harder. Today's leaders will need to figure out how to create a workplace that will appeal to millennials' values, as well as leverage the insights and expertise of these workers. Clients are implementing automation and robotics to decrease reliance on a dwindling labor pool, use of the tech skills of younger workers, and make the warehouse an appealing place to work.
Leading distributors will embrace new technologies and use the information gleaned from it to provide value-add services and insights to customers. We recommend that companies look for ways to turn data into insights, creating a product-service hybrid that customers can't find elsewhere. For example, the introduction of "smart technologies" that provide data around usage, type of usage, amount of usage, etc. that provide insights to better help your customers run their business or optimize the beneficial use of their products. Business sensors are ever-increasing (15B today and 50B by 2020) and companies that can use new information in more profitable ways will continue to be leaders.
Should industrial distributors "unbundle their services"?
Redding (BB&T): We believe that select non-product service offerings will remain a critical component for many industrial distributors for the foreseeable future. Value drivers include inventory management, logistics, warehousing, kitting/pre-assembly, and supply chain outsourcing. Given heighted competition, we expect these service capabilities will remain a primary differentiator for select distributors for the foreseeable future. Service represents ~25 percent of total revenue for WESCO. At the company's recent Investor Day, management noted, "Our service capabilities are proving to be a key competitive differentiator. We've made good progress on expanding our service offerings over the years. Think about this as a real value-added piece of what we deliver to customers. It creates a stickier relationship with our customers, very critical to enhancing and growing our customer relationships. Our solutions create win-win partnerships, delivering meaningful savings to their business and creating annuity, annuity-style agreements that create/generate revenue and increase margin for WESCO. Our supply chain services capabilities are a key competitive differentiator to drive profitable organic sales growth."

Leja (Fortna): In our view, companies looking to differentiate from Amazon and other competitors should be adding more services to their offerings. Services that help customers make or save money provide value and build loyalty.
One client has found a way to increase value to the customer by providing service in the form of vending machines in their customer's facility. The vending machines help their customers manage inventory better, eliminate shrink and obsolescence, and minimize the order function. Their customer is better able to track consumables and gets better information/insight into how those products are being used across the organization. It is part of the 'value basket' for their customers and drives loyalty and 'customer stickiness'.
Your earlier mention of Watsco's mobile application is another great example of ways that industrial distributors are creating value for and making themselves indispensable to customers. Watsco has really embraced technology and although Watsco's successful integration of new technology has enhanced profitability, fostered added share gains, and ultimately helped the company become the No. 1 provider within the $35 billion HVAC/R distribution marketplace.
At the end of the day, Amazon sells products, but lacks the insight and deep knowledge of the products and their application that is a real value-add for customers. Distributors have to continue to leverage this knowledge and provide insights to win and keep business.
How can industrial distributors compete with Amazon?
Redding (BB&T): Based on recent commentary from our distributors under coverage, many believe the perceived threat from Amazon has been (at least) partially exaggerated. First and foremost, Amazon is not always the least expensive option. Perhaps more importantly, we believe many customers (particularly medium/larger-sized customers) are willing to pay a premium for access to technical expertise, product/industry specialization, and multi-channel delivery. Select distributors believe their expansive level of customer specialization, proactive sales penetration, and customer SKU inventory provides them with an edge over more reactive, one-dimensional delivery channels such as Amazon. Many also believe Amazon Business is less of a threat to traditional distributors given the newly broadened scope less directly targeted to industrial-specific applications.
Recently, management from W.W. Grainger noted, "Certainly, Amazon sells a lot of the products we sell. We look at them very closely in terms of the service they're providing on those items. For a large complex customer, they haven't really played much of a role in the sense that we're serving that customer onsite. We're making it very easy for (the customer). Our prices are really competitive with that large customer group already. If (Amazon) were to make in-roads, it would typically be small customers in some ways, and so that's possible. Right now, we haven't seen them be a huge impact on our business."
Leja (Fortna): Today, Amazon poses a moderate threat to industrial distributors as they seek commodity type business from the industry. But if in the future Amazon elects to pursue the service side of the industrial distribution business, there will be real cause for concern because of the company's size and ability to scale due to infrastructure investments.
The keys to sustaining and growing business in today's environment are: 1) making it easy for the customer — frictionless commerce, 2) delighting customers with over-the-top service and 3) finding ways to help your customer meet business challenges and solve problems. Amazon is changing buyer behavior and expectations. They make the purchase easy by showing inventory availability and promise-to-deliver dates on screen, and frictionless with one-click ordering and easy payment options. And with technology as a core competence, they could make it very easy to integrate with existing procurement solutions. Many clients fail to look at their online platform through the lens of the customer. You need a B2C mindset to address those expectations. You may not compete directly with them yet, but you should be learn from Amazon and incorporate the best of what they are doing into your business.
Amazon's culture is one where innovation and failing fast are rewarded. They take chances and try new things with the idea that they can learn from and improve upon each iteration. They do this in service to delighting customers in new ways which, in turn, builds loyalty. For example, Amazon saw the flailing US Postal Service as an opportunity to do something that most people never thought of — enable Sunday delivery. And when parcel carriers ran out of capacity during peak holiday shipping season a couple years back, Amazon decided it was time to take matters into its own hands and launched a plan to create more capacity with its own line of delivery vans, tractor-trailer trucks and cargo planes.
Millennials value time differently than previous generations. They value convenience and don't want to spend time on mundane tasks like driving to a branch to pick-up an order. They've grown up being able to order virtually anything they need online and have it delivered. Companies should look for new ways to anticipate their needs and be ready to offer more efficient ways of doing their work to help them minimize the time spent on low-value tasks and focus on the value-add will go a long way to winning their hearts. Using analytics and industrial internet of things data you can gain competitive advantage by positioning your company as a trusted advisor who understands their business and can help them run it more efficiently.
Helgi Thor Leja, director and industrial distribution leader with Fortna, works with leading Industrial Distributors to drive improvements in distribution that result in top-line growth and bottom-line efficiencies. Fortna is a professional services firm helping companies with complex distribution operations meet customer promises and competitive challenges profitably.
Vice president and Senior Research Analyst Charles E. Redding, who has been with BB&T Capital Markets since December 2007, follows the Environmental Services and Industrial Distribution sectors. BB&T Capital Markets provides a full spectrum of capital and advisory solutions including research, sales and trading, equity and debt underwriting, M&A advisory and corporate banking.