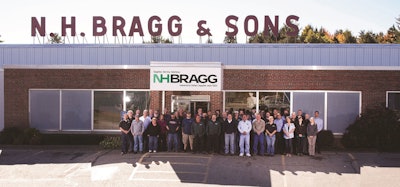 Considering his company's immense history of success, and its current state of business, Jon Eames knows NH Bragg's future prospects and reputation are rock-solid.
"It's going to take a lot to screw this place up," Eames says with a laugh.
Eames is the sixth-generation president of Bangor, ME-based NH Bragg, the state's largest distributor of industrial and safety supplies, which has pre-Civil War roots dating back to 1854 when it began as a blacksmith supply shop. In the following years, as the horse and buggy became the automobile, the company sold auto parts. As the coal and bellows were replaced by oxygen and acetylene, the company became a welding supply distributor.
The company has seen all sorts of changes in the 162 years since its start, but its family element has kept it grounded all along. Despite its age, this industrial distributor has continued to post solid growth through recapitalization and keeping its business modern.
But first, a history lesson.
Norris H. Bragg moved his family to Bangor in 1854, and with his partner Sumner Basford, opened the business Bragg & Basford. The partnership with Basford ended three years later and the company was renamed to N.H. Bragg. The first Eames family member to have a leadership role was Donald J. as vice president in the mid-1940s.
Donald's wife was a Bragg. The company relocated within Bangor in 1967 to its current spot. Donald's son, Clifton Eames, took over the leadership role in 1980. Clif retired in 1992 and was replaced by his cousin John Bragg. John led the selling of N.H. Bragg & Sons' automotive supply division in 2002 to Carquest and the 2008 sale off its welding supply division to Valley National Gas. John retired in 2011 and his cousin, Jon Eames, succeeded him as the next president.
Legacy
With so much company history and family ownership
behind him, Eames says he feels both challenged and honored to be the one leading such a reputable company.
"As the sixth generation of our family to lead the company, I feel a major sense of responsibility to carry on the company legacy," he says. "It's a weight on your shoulders to perform and excel in the industry and serve in the community like those in the past. It's a challenge, but it's one I relish. I'm fortunate to be in the position I'm in. I'm very proud and aware of the family's history and ability to adapt to changing times."
The Bangor facility still has the wooden boxes containing financial records from the company's early years in the
1800s, as well as one of the company's early cash registers.
One of the reasons for NH Bragg's sustained success is because the Bragg/Eames families have continuously reinvested profits back into the company, giving it the capital to invest in new endeavors, as well as a nest egg to help carry it during difficult times.
While the family has and will continue to be the backbone of NH Bragg, its leadership also appreciates that past executives don't interfere with how things are currently managed. Besides receiving financial statements and maybe asking a couple questions, past leaders stay hands-off.
"One of the things I credit the family for is when one generation retires, they retire," says vice president Vern Leeman. "The next generation knows no one is going to come out and say, 'Are you sure you want to do that?' and second-guess them. It's on them to run the business."
Leeman started at NH Bragg in 1979 and was there for 18 years, eventually becoming operations manager. When the company divested its automotive division he left to take upper management position in a Tier 1 automotive part manufacturer, and eventually returned as vice president five years ago. His hands-on experience in the manufacturing sector has proved valuable to the company.
In a period where business consolidation is higherthan ever across the industrial distribution landscape, Eames and Leeman know NH Bragg has to continue to excel in order to compete with the large national distributors. Eames says company leadership has enjoyed being able tomake key decisions without approval of a board, which has kept the company nimble and adaptable.
"Our customers want the advantages they believe they get doing business with the big nationals, but they also want local decision-making and local control," Leeman says. "As long as we can leverage our capabilities and relationships to provide a level of service comparable to the nationals, that local control is huge."
Growth Approach
A conservative approach to growth has served NH Bragg well over its many years, allowing it to overcome downturns in the economy like the Great Depression of 1929-1939 and the recent Great Recession of 2008-2009. But as technology has accelerated, logistics have become more complex, and competition from national distributors has increased. The company has feels the need to grow faster than it has in the past.
NH Bragg posted 2015 sales of $23 million, a solid growth over 2014, but Eames says the company will eventually have to grow to more than $40 million in sales to justify adding top talent in all key areas to replace the company's maturing workforce. As of early March, NH Bragg has 63 employees, with an average age of 49. He added that continued growth is critical for the company to maintain its strategic suppliers and expand market share.
Overall, the company has set a goal to double its growth over the next five-to-seven years.
"It's fair to say we've taken a more aggressive approach," Eames says. "In our region we get more than our share of resources from our strategic supplier partners, and you can't do that unless you're growing above normal."
While cheap oil and the strong U.S. dollar haven't hurt business for NH Bragg like it has for many industrial distributors, the region's pulp and paper industry — once 60 percent of the company's industrial business — has taken a nosedive. Pulp and paper end-market customers now comprise only 12 percent of business for NH Bragg as three regional mills closed last year, and another large one did in 2014. Even so, the company was able to achieve 8 percent sales growth last year, which Eames credits to hard work and market share gain.
Part of NH Bragg's more-aggressive approach has been with diversifying its customer mix, which has included expanding into southern Maine, as well as servicing customers in Massachusetts and New Hampshire. In December 2014, the company opened a new branch just south of Portland, ME in Scarborough, which replaced and doubled the size of the company's former branch in Westbrook.
The effect has been immediate, as 2015 counter traffic increased more than 60 percent over what it was in Westbrook, and overall sales increased 32 percent. The Scarborough branch features the New England region's only fully-equipped fall protection training center. Capital Safety — NH Bragg's main fall protection supplier — uses the facility as a northeast training center.
Online
Another reason for NH Bragg's sustained success — especially over the last 10 years — is how it has embraced technology. The company began offering e-commerce back in 2005, and it has undergone several upgrades as web traffic has grown. Approximately 13 percent of the company's 2015 sales were done online.
Besides being active on Facebook and LinkedIn, NH Bragg's website (www.nhbragg.com) is currently undergoing another major re-design, which it hopes to launch at the end of this summer. The overhaul ties into the company's participation with Affiliated Distributors' (AD) new e-commerce venture. Eames helped spearhead AD's involvement in this initiative and is currently chair of their e-Content Steering Committee. Besides drawing from AD's enhanced content repository built by Unilog, Bragg is installing Unilog's flagship storefront, CIMM2, to make best use of this content.
"It wouldn't really be doable, financially, without being a part of AD," Eames says. "The cost of building fully attributed content to the tune that we need it — providing punch-out catalogs, a storefront that is mobile-ready and all the things you want to compete with the nationals — it's expensive."
NH Bragg was an early member of AD's Industrial Supply Division joining in 1995. It was recognized by the association in 2012 with AD's Affiliate of the Year for Marketing Excellence award.
Services
NH Bragg has been offering fall protection training for a number of years, but the new Scarborough branch makes fall protection arguably NH Bragg's most prominent service offering as of late. Besides that, the company offers inventory management services, including point-of-use dispensing, vending, barcoding, scanning, data communication and how all of it integrates with a customer's web offering.
One of NH Bragg's best strengths is its experienced workforce, with an average employee tenure of 17.5 years. It is most prominent across the company's inside and outside sales teams, where they average 25 years of general-line selling experience.
"If I had to pick one thing, I'd say it's the experience we bring across the company to our customers. That's our No. 1 differentiator," Leeman says about NH Bragg's top service. "Our customers know that our people have been there, done that, seen that, and can give advice on a number of different areas. That level of experience and competence is very valuable to our customers."
Over the past 12 months the company has made two significant hires — adding a new operations manager and a director of sales. NH Bragg has two safety specialists, a 3M certified specialist, four technicians in its repair shop, two Lenox-authorized band saw blade welders, two VMI specialists and an in-house information technology specialist who handles vending installations.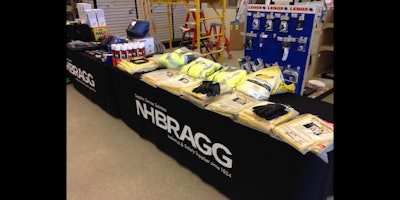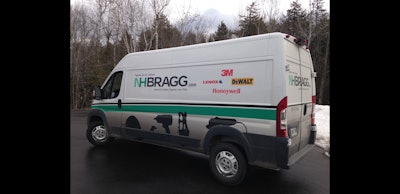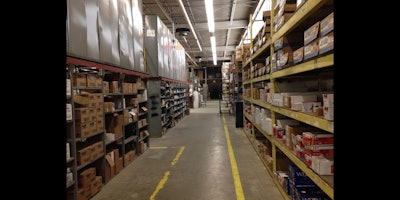 LEANing Out
With a fair amount of NH Bragg's employees nearing retirement age, Leeman has led the company's effort to improve the layout of its 82,000 square foot Bangor warehouse to reduce stress on older employees and to improve productivity. The company is in the works of moving higher-demand product from its warehouse decks and mezzanine down to the floor level and replacing it with slow-turning product, which will cut down on employees having to go up-and-down stairs and generally speed up the picking process. NH Bragg stocks approximately 30,000 SKU total.
"We've really started trying to reduce distances and cutdown on waste production," Leeman says. "One of the things the nationals have that's harder for a mid-sized distributor is those economies of scale, so we have to figure out how to use Lean to make our operation as efficient and economical as possible."
Culture
With such a tenured workforce and history of family ownership, it makes sense for the current culture at NH Bragg to reflect it.
"It's still very much a family culture," Eames says. "We have some spouses working together, father-and-sons, and brothers. Not to mention a seventh-generation family member joining just last year."
Promoting that atmosphere, NH Bragg does not have a commissioned salesforce, instead offering bonus opportunities to the entire organization based on overall company performance.
Employee experience is NH Bragg's best attribute, which means the company also faces the task of transferring the knowledge and skill set from employees nearing retirement while maintaining the historical aspect of the company's values.
"We need to be prepared to adjust the company's tone or approach so that it's welcoming to younger employees without sacrificing the core principles of our business," Leeman says. "That's a challenge."
If history is any indicator, NH Bragg will meet that challenge and keep moving forward just fine.