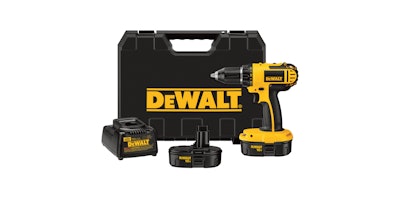 Much like phones have gone away from needing a wall connection, to cordless, to nearly everyone carrying one in their pocket – power tools technology has followed suit over the past 10 years. From construction professionals and repair contractors, to factory workers, to do-it-yourselfers, the overall demand has been for more versatile power tools. Manufacturers are meeting the challenge by making today's tools lighter, longer-lasting, and improving in charging technology.
Power tools were featured prominently at November's Specialty Tool and Fasteners Distributors Association (STAFDA) trade show in Phoenix, AZ. There, the latest and greatest power tool products and innovations were on display from many of their top makers, including Bosch, DeWalt, Milwaukee Tool, Ridgid and many others.
Industrial Distribution was able to meet with several of them and even try out a few of their products on the trade show floor. Afterward, a couple of them shared their thoughts on the top trends in the power tools market.
"The biggest trend in DC electric power tool technology is cordless," says Mike Connor, Global Director of Marketing at Apex Power Tools, a division of Apex Tool Group. "There is a rapid shift in the market from corded to cordless tools. Cordless power tools are expected to gain traction in the future due to their ease of use and performance advantages."
Apex says that as battery technology has moved away from nickel-cadmium to Lithium-ion, the tools are becoming faster and lighter. Today's cordless tools are able to run longer on a single charge, offering superior performance for users than tools produced just a few years ago.
"Li-ion batteries have become the industry standard for premium industrial as well as DYI end-users," Connor says.
Charging technology continues to evolve, and like power tools themselves, have become increasingly mobile. Battery charging docks can today be installed on workbenches, mounted to walls, or even installed in vehicles. Innovations have allowed chargers to cut the cord as well. In 2014, Bosch unveiled its Bosch Power Ready Wireless Charging System, in which all the user has to do is place a compatible battery on the charging pad, which then begins wirelessly transmitting power. The user doesn't even have to remove the battery from the tool.
"The ongoing evolution of battery power, highlighted by an increase in amp hours and advances in brushless motors, is allowing for development of cordless tools that were previously only available as corded products," says Steve Wilcox, Bosch Power Tools Product Manager.
Advancements in the aforementioned brushless motors is what has driven the rise in power tools. Traditional power tools require more maintenance because of the brushes, whereas power tools with brushless motors are virtually maintenance-free. Brushless motors run more efficiently due to their electronic control, which Wilcox says can also help to control torque and performance, as well as allows users to electronically control speed and power output in certain applications.
"Brushless technology continues to be the story in the power tool industry," Wilcox says. "It's all about the motor."
Cordless and battery charging developments in power tools continue to help end users decrease lost productivity time due to searching for outlets and disposable batteries, and save them maintenance dollars.

Safety
Safety improvements are an important part of any tool group, and power tools are no exception. In a factory setting, such as fastening operations at automotive plants, numerous incidents have been reported where an operator's glove, clothing or hair has been caught by rotating tools while driving a fastener, resulting in injury.
According to Vipul Agarwal, Global Product Manager of Industrial Fastening Tools at Apex Tool Group, one approach assembly plants can adopt to minimize such incidents is to promote the use of covered power tools in fastening. In addition to improving operating safety, a covered drive tool will help maintain in-system damage and marring caused during fastening.
"There is a mounting concern over the considerable expenses a plant must bear as a result of the damage and marring of sheet metal or painted parts," Agarwal says. "One of the largest contributors to in-system damage is incidental contact between the fastening power tool and the product that is being assembled as it progresses down the line."
What Distributors Should Consider
When choosing a power tool product line to carry, there are certain key factors a distributor should keep in mind. A great power tool can be a bad solution when it's not the right one for the job, so helping the customer get what they need should be a priority.
"The first important consideration is the need for the correct application," says Chad McDonald, Global Director of Channel Development at Apex Tool Group – Power Tools. "Many distributors will fall into the trap of offering products that may look and feel like the right solution, but are not designed for that specific application. It's critical that distributors take the time to understand the customer's' needs, discuss application solutions with the tool manufacturers, and then apply the correct product solution."
Product quality is always a top priority, as it can make or break a distributor's reputation.
"Power tools that can withstand the jobsite environment and deliver performance are worth their weight in gold," says Bosch's Wilcox. "Who wants to have a conversation with a contractor whose hammer drill stopped working 10 stories up on a scaffold?"
Wilcox also stresses that warranty and service go hand-in-hand with product quality, as distributors need to partner with suppliers that will hold up their end of the bargain.
"Distributors want to know that the manufacturer they're working with will stand behind the products they produce and sell," he says. "It's important to have a closed loop: high quality, a strong warranty and great service."
This article originally appeared in ID's January/February print edition. To view the digital edition, click here.