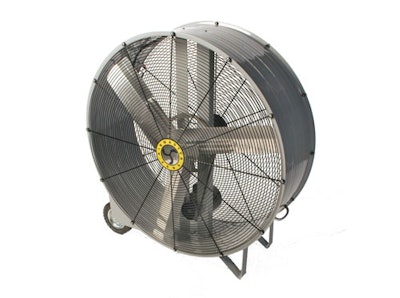 This article appeared as part of Industrial Distribution's 2015 January/February print issue. To view the full digital edition, click here.
Airmaster Vice President of Sales Marketing Ed Laabs is a fan of proverbs for explaining business. After nearly 30 years of industrial experience, there's one sales saying he puts above the rest: "It's easier to explain price once than apologize for quality forever," coined by Zig Ziglar, an American author, salesman, and motivational speaker.Its message is simple: don't skimp on quality to sell at a cheaper price.
That sentiment is shared by Sauk Rapids, MN-based Schaefer Ventilation, where company president Neil Crocker knows that quality is should be priority No. 1 for any distributor considering carrying or adding to an industrial fans product line.
"Quality matters. It's about whether (fans) last a few years or a few minutes," Crocker says. "Fans aren't exactly rocket science. A good fan moves a lot of air, moves it efficiently, and lasts a long time. End use customers appreciate not having to replace them. Those are the things to look for."
Webinar: The Industrial Distributor of the Future
Laabs has seen the industrial products sector from three angles. He was president of Eagle Industrial Supply for 18 years before becoming National Accounts director at buying group IBC for 2 years, and is now on the manufacturer's side with Jackson, MI-based Airmaster since April 2012. Through it all, he's learned to sell on value, not on price.
"Distributors sell based on value, not on price, and that moves products," Laabs says. "They can sell a cheaper brand, but is the end user getting a better product?"
What is Fan Quality?
Industrial fans quality is all about the materials. The highest quality fans are typically heavier, the gauge of the fan blade is thicker so it won't flatten out over time.
"The most important product feature is the raw materials used," Laabs says. "We make the best fans in the business because we use the best materials."
Another factor to look at is what type of motor is on the product. Airmaster only partners with one motor manufacturer, which Laabs says gives them a competitive advantage.
Both the materials used and the motor determine the lifespan of an industrial fan. And customers will pay more up front if it means getting more out of their investment.
Energy-efficiency is a third factor, and a trend that will only continue to grow.
"That's not going away," says Dan Anderson, product manager of Milwaukee-based fans manufacturer Rite-Hite. "That's a great area for distributors to grow their business. Not only are consumers excited about it, but government agencies. You're talking about rebates from electric companies and state-funded programs."
Trending
A trend that industrial fans manufacturers and suppliers hope continues to grow is one where customers are choosing a fans solution over air conditioning. Especially effective in the warmer months, a proper fans system moves hot air out of a building so it's not adding to its heat load, and provides a breeze through air circulation. When outside temperatures cool down at night, a fans system airs out the building and allows it to start the next morning at a cooler temperature. In the winter, keeping heat in the building is helped simply by closing shutters and bringing hot air down from the ceiling.
"People should think about improving their working environment, and they can do it with fans as opposed to A/C," Crocker says. "It's cheaper. People should think hard about it. A/C companies would love to put a new product on top of the building. Fans lower top expenses and operating expenses. There's a lot of things you can do to not need A/C."
Crocker said manufacturers can design a combination of shutters, inlets, and controls to create employee comfort at a significantly lower price as opposed to A/C or natural gas.
Laabs says an ongoing trend is end users choosing a large overhead-type fan to help control air circulation in industrial plants. He warns, however, that it's not always the best solution to get rid of trapped hot air.
"If you have stratified air that gets stuck at the top of a plant – let's say it's 120 degrees – and the most a big fan can pull out is 10 degrees, you're still way over."
Fan manufacturers also noted cost-saving materials trends that often prove costly in the long run. They include replacing metal with plastic, and using sleeve bearing motors as opposed to enclosed air-over motors.
Value-Added
Supplying high-quality fans is one thing. Providing a fans solution or service is even better. Laabs, Crocker, and Anderson each talked about how taking a service-providing approach will earn the distributor and end user more out of their investment.
"It's not just about dropping off a fan in a box. It's about figuring out what's causing heat in their facility," says Laabs. "There's an opportunity for distributors to see what's causing heat and we can do an audit and figure out a solution quick."
"For a distributor to be successful, they have to be a counselor in selling," adds Anderson. "With site visits prior to sales, we can go in and evaluate. Distributors can bring in financing, after-sales support, negotiate warranties, and help with programming."
The biggest takeaway manufacturers emphasized was that letting them help find a fans solution for a facility will save the customer money by being as efficient as possible and geared better for longevity, as opposed to a plant manager straight-up purchasing a number of fans and placing them where they deem best suited.
"Typically in a factory setting, the complaint would be, 'our fan is broken,' or 'I'm hot,'" says Crocker. "By taking a solutions/systems approach, you can be a lot more efficient and get more bang for your buck. There's an opportunity to help a plant manager engineer a solution that works well and saves them in the long term.
"It's hard to compete with a guy that says, 'I need 100 pedestal fans for a low cost,'" Crocker continues. "Other people play a little more to put fans in the right position and get them to last a long time."