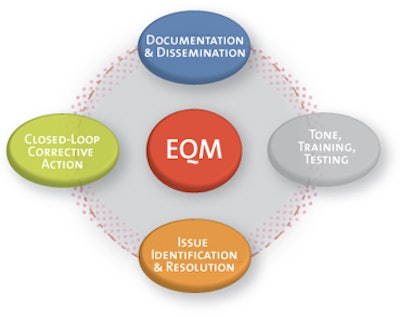 The results of an extensive study on best practices in enterprise level quality measurement were released today by APQC, the leading benchmarking and best practices research organization. The report, produced with support from the American Society for Quality, provides a basis for organizations to evaluate their enterprise quality processes, identify practice gaps, and adopt practices that create business value.
Using Enterprise Quality Measurement to Drive Business Value, a 62-page report available at apqc.org, identifies eight imperatives for the enterprise quality function within three broad topic areas:
Enterprise Quality Oversight
Align enterprise quality with strategic goals and initiatives
Establish structures and resources to get the desired results
Create supporting policies, procedures, and tools—not mandates
Measurement Process
Select, define, and standardize quality measures across the enterprise
Allow business unit leaders to establish the performance targets for enterprise quality measures
Report enterprise measures at least quarterly
Quality Culture and the Support of Business Value
Design quality measures to focus on value-added quality activities and core strategic objectives
Use measures to promote a culture of quality
"What this study underscores is that quality is not just a set of tools, concepts or policies; it is the way work is performed every day, by everyone," said Travis Colton, project manager, APQC. "Enterprise leaders cannot dictate or mandate quality, but they can use measures to promote a culture of quality for their organization."
The report features insights from companies identified as best practice in enterprise quality—Altera Corp., Caterpillar, Inc., Chemonics International, and Textron Systems. Responses from these organizations provide detail about how they organize quality functions, measure their impact, and ensure that a culture of quality is used to drive business value.
Finally, the research compiled findings about the extent of quality programs within large enterprises. Key findings confirm that:
81% of respondents agree or strongly agree that their organization's enterprise quality management directly aligns with overall strategic goals and initiatives. However, further discussions revealed most have aligned only one or two core business processes.
A typical quality measurement framework should have no more than five key performance indicators and five supporting indicators. Although there were differences between manufacturing and service organizations, the median for all survey participants was less than 10.
67% of participating organizations establish quality measures at the enterprise level, 19% do so at the business unit level, and 5% at the product or service level. 10% do not establish enterprise quality measures.
If staff are measured and compensated based on quality measures that focus on value-add activities, employees will focus on those activities, and eventually, the culture of the organization will naturally eliminate work that does not add value. 67% of respondents agreed or strongly agreed that their organization uses enterprise quality measures as part of variable performance compensation.
"Quality is a well-established discipline with many tools, best practices, and frameworks," said Colton. "Yet, the application of quality at the enterprise level has not been well documented or extensively analyzed. Quality leaders themselves have questions about the best way to structure an enterprise quality function and the best methods to influence the culture so work aligns with organizational goals. This report helps answer those questions and provides a framework to develop quality measurement competencies."
Added Colton, "Measuring enterprise-wide quality is a relatively new discipline, thus the best practices we outlined should be considered stepping stones toward more defined practices that organizations can develop over time. Any organization can assess their current practices against those outlined in this report and identify improvement opportunities."
About APQC
APQC is a member-based nonprofit and one of the world's leading proponents of knowledge management, benchmarking, and best practices business research. Working with more than 750 organizations worldwide in all industries, APQC provides organizations with the information they need to work smarter, faster, and with confidence. Visit www.apqc.org or call +1.713.681.4020 and learn how to make best practices your practices.