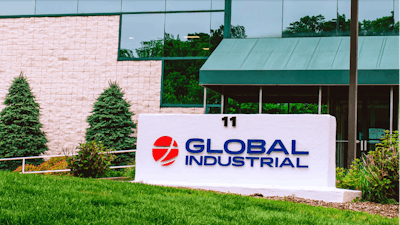 Global Industrial Company saw its sales decline by 5% in the first quarter of the year while net income dropped by nearly 40%, the company reported in financial results released Tuesday.
The Long Island-based distributor — no. 18 on ID's most recent Big 50 list — posted consolidated sales of $273.8 million from January through March, down from $288.6 million in the same period last year. Consolidated operating income from continuing operations fell from $29.5 million to $17.8 million over that span, while the company's consolidated gross margin slipped from 37.4% to 35.9%.
Net income per diluted share from continuing operations fell from $0.57 in the first quarter of 2022 to $0.35 in the latest results, a decline of 38.6%.
Global Industrial officials said the company saw "strong growth" from its largest accounts in the first quarter of the year, but its smaller customers remained "cautious with their purchasing behavior" amid an uncertain environment. The company added that its product margin trends improved throughout the quarter, and that officials were "very pleased" with gross margin levels.
"We are investing in key growth initiatives to drive long-term success and continue to proactively manage our cost structure," CEO Barry Litwin said in a statement. "With an exceptional balance sheet, we remain well positioned to execute on our strategy, explore organic and strategic opportunities, and build long-term value for our stakeholders."