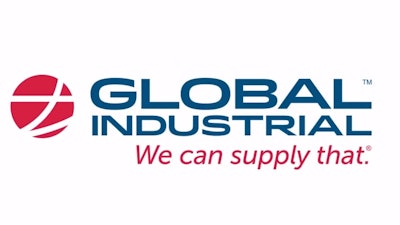 Systemax, which does business primarily through its Global Industrial subsidiary, reported its 2021 first quarter and financial results on Wednesday, showing that the company's considerable sales growth throughout last year remains steadfast, despite smaller margins.
Port Washington, NY-based Systemax — which achieved $1 billion in annual sales ($1.03B) for the first time last year — reported total Q1 sales of $251 million, up 10.5 percent year-over-year and down 8.4 percent sequentially from Q4 2020. It was the company's third consecutive quarter of double-digit year-over-year sales growth.
"Sales reflect a continued recovery in core categories, which finished the quarter with a strong March, and solid demand for our Global Industrial-branded products," said Barry Litwin, Systemax CEO. "We are pleased with core category performance, and given the signs of an improving economy, we remain optimistic about the demand environment."
The company's Q1 gross margin of 30.8 percent fell from 33.7 percent of a year earlier and 34.0 percent in Q4. Meanwhile, operating profit of $6.6 million trailed the $11.5 million Systemax had a year earlier and $21 million in Q4, while operating margin of 2.6 percent likewise was down from 5.1 percent of a year earlier and 4.7 percent in Q4.
"We were disappointed with our freight margin and resulting overall profitability which reflects the impact of the February winter storms, increased costs related to the transition to a new third party logistics provider, inflationary freight pressures and a write-down of personal protective equipment inventory," Litwin said. "These events were partially offset by improved product margins, as well as selling, distribution and administrative leverage."
Litwin added that the company sees many of the negative drivers of first quarter margin performance as temporary and expects they will ease as heading through the summer.
WATCH: 5 Minutes With ID: Systemax CEO Barry Litwin (published Nov. 18)
Systemax was No. 19 on Industrial Distribution's 2020 Big 50 List.