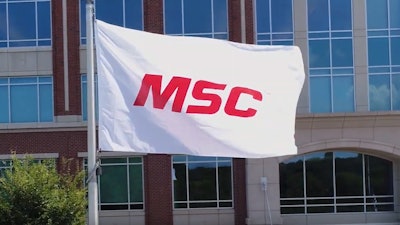 Metalworking and MRO products distributor MSC Industrial Supply wrapped up its fiscal 2020 on Aug. 29 and reported its fourth quarter and full-year results on Tuesday. With that, the company unveiled a new strategy aimed to gain market share after a tumultuous 2020 for the entire industrial supply sector.
MSC — No. 9 on Industrial Distribution's 2020 Big 50 List — has said for the past several years that it has been repositioning the compamy from a spot-buy supplier to a mission-critical partner on the plant floor of its industrial customers. It's now taking that statement further.
"Over the next three years, we will be taking measurable action to reaccelerate market share capture and improve profitability in a program named Mission Critical," MSC president and CEO Erik Gershwind said. "The 2023 targets for this program are above market growth of at least 400 basis points and ROIC in the high-teens."
MSC plans to achieve that market growth target via the following priorities: Solidify metalworking; Leverage portfolio strength; Expand solutions; Grow e-commerce; Diversify customers & end markets. Those priorities rely on the following initiatives:
Build on talented team of

metalworking specialists

Leverage exclusive MSC

Millmax technology, announced Oct. 5

Increase investments in

Vending, VMI and in plant

solutions programs

Elevate website and other

digital tools

Scale presence in counter

cyclical businesses
On the ROIC side, MSC plans to grow its profits faster than sales by prioritizing: Sales & services; supply chain; and general & administrative. Those priorities rely on the following initiatives:
Optimize distribution center network
Renegotiated supplier contracts
Redesigned talent acquisition approach
Reduced long-term freight contracts
Voluntary early retirement program
September-October
Along with its June-August quarter results, MSC's latest quarterly earnings report also showed how sales have fared into October. Most recently, September daily sales were down 8.5 percent year-over-year (YoY), while preliminary October sales are projected to be down 4.6 percent. That October figure would be identical to MSC's February 2020 sales, which is when impacts of the pandemic begun to be felt internationally.
Fourth Quarter
In MSC's June-August fourth quarter, sales of $748 million were down 11.3 percent YoY, with average daily sales down 12.7 percent. Gross profit fell 12 percent YoY as gross margin fell 40 basis points; operating profit of $73 million was down 19.4 percent as operating margin fell 90 basis points; and total profit of $52.5 million was down 21.2 percent.
"Most manufacturing end markets remain soft given COVID-19 uncertainty," Gershwind said. "We did, however, see sequential improvement in sales of non-safety and non-janitorial products. Sales of safety and janitorial products also continued growing year-over-year at roughly 20 percent percent each month on average and for the quarter."
MSC said sales for the rest of the business declined YoY in Q4, but improved sequentially each month.
Geographically during Q4, MSC's YoY sales by region fell 11.2 percent in the Midwest; fell 12.7 percent in the Northeast; fell 17.6 percent in the Southeast; fell 11.4 percent in the West; and grew 13.7 percent in International & Other.
By customer type during Q4, average daily sales to manufacturing customers fell 19.6 percent YoY, while daily sales to non-manufacturing customers grew 3.4 percent. During Q3, those figures fell -17.0 percent and gained 26.2 percent, respectively.
On the e-commerce front, 60.0 percent of MSC's Q4 sales came via e-commerce. That compares with 55.2 percent in Q3, 60.9 percent in Q2 and 60.7 percent in Q1. MSC notes that the slightly lower amount of e-commerce sales in Q3 and Q4 were primarily due to the higher volume of safety and janitorial products not transacted through its e-commerce platforms, and that excluding those product areas, e-commerce percentages remained consistent with prior quarters.
MSC ended its Q4 with a total associated headcount of 6,315, which was down 4.1 percent from Q3 and down 5.7 percent YoY. MSC's headcount recently peaked at 6,866 in Q2 of 2019.
Full Year
MSC's fiscal 2020 totaled $3.19 billion in sales, down 5.1 percent YoY. Operating profit of $351 million fell 12.3 percent, while total profit of $251 million was down from 2019's $289 million.