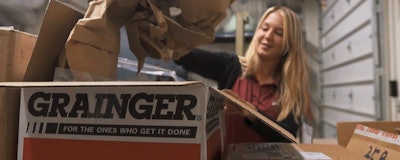 MRO products distribution giant Grainger reported its 2018 second quarter financial results on Wednesday, which showed continued strong gains in sales and profits compared to a year earlier, leading the company to improve its full-year sales outlook.
Grainger posted Q2 sales of $2.94 billion, outpacing Q1's $2.8 billion and up 9.4 percent year-over-year (YoY). The company's total Q2 profit of $237.0 million dwarfed the $98.0 million it had a year earlier. Adjusted net profit of $248.8 million jumped 54 percent YoY; adjusted operating profit of $359.3 million increased 23.4 percent; and adjusted gross profit of $1.11 billion increased 6.7 percent. Adjusted gross profit margin of 38.9 percent in Q2 fell 100 basis points, while operating expense margin of 26.3 percent improved 240 base points.
As in the past few quarters, volume growth of medium-sized customers powered Grainger's Q2 gains. Sales to medium-sized customers increased 29 percent, following growth of 30 percent in Q1; 26 percent in Q4 2017 and 18 percent in Q3 2017. The increase in both markets exceeded Grainger's expectations. Grainger initiated a new pricing strategy at the start of 2017, which it accelerated in Q2 of that year.
"The second quarter exceeded our expectations, with strong growth from U.S. large and medium customers, gross profit that was better than anticipated and meaningful operating expense leverage," said D.G. Macpherson, Grainger chairman and CEO. "We continue to gain share across both large and medium customers and acquire medium customers amid a strong economy."
Due to the strong quarter, Grainger increased its full-year sales outlook, raising the lower end of its previous 2018 guidance of $10.9-11.3 billion to $11.0-$11.3 billion. Grainger had 2017 full-year sales of $10.1 billion.
Overall, Grainger said its 9.4 percent Q2 sales growth was driven by a 9 percentage point increase from volume and a 1-point gain from foreign exchange, partially offset by a 1-point decline from a divestment.
End Market
Q2 U.S. sales by customer end market were as follows:
Reseller: up mid-teens
Government: up mid double digits
Commercial: up low double digits
Heavy manufacturing: up high single digits
Natural resources: up high single digits
Retail: up high single digits
Contractor: up high single digits
Healthcare: up mid-single digits
Light manufacturing: up low single digits
Monthly
Here's how Grainger's total sales growth have looked by month over the past 13 months:
| | |
| --- | --- |
| Month | Total Daily Sales Growth |
| June '18 | +9% |
| May '18 | +8% |
| April '18 | +11% |
| March '18 | +9% |
| February '18 | +9% |
| January '18 | +9% |
| December '17 | +5% |
| November '17 | +8% |
| October '17 | +6% |
| September '17 | +7% |
| August '17 | +1% |
| July '17 | +2% |
| June '17 | +2% |