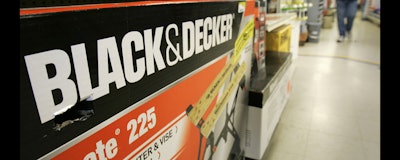 Stanley Black & Decker (SBD) reported its 2017 fourth quarter and full year financial results on Wednesday, showing continued accelerated growth for the industrial supply giant, while it also announced a major acquisition of a fastener supplier.
In Q4, the company posted total sales of $3.41 billion, up 17 percent year-over-year (YoY), powered by nine percentage points of growth from acquisitions, nine points of growth from volume and three points fo growth from currency, partially offset by a three-point decline from divestitures and one point from price. SBD had Q4 organic sales growth of 7 percent, identical to the previous two quarters. SBD's total Q4 profit of $281.5 million jumped 10.2 percent, gross margin dipped to 0.3 percent from a year earlier to 36.6 percent and operating margin dipped 0.2 percent to 13.3 percent of net sales.
By business segment in Q4:
Tools & Storage sales of $2.43 billion jumped 25.6 percent YoY, driven by a 13-percentage point gain from acquisitions, a 12-point gain from volume and 2-point gain from currency. Organic growth was up 17 percent in emerging markets, up 17 percent in Europe and up 8 percent in North America. Profit rate, excluding charges, was 16.7 percent and up 50 basis points.
 
Security sales of $509.8 million declined 4.3 percent YoY, with the divestment of SBD's Mechanical Security Business contributing 13 points of decline, offset by a four-point gain from acquisitions, a three-point gain from currency and a two-point gain from volume.
 
Industrial sales of $473.5 million increased 4.3 percent YoY, driven by a two-point gain from volume and three-point gain from currency. Organic sales were up 1 percent in Engineered Fastening and 8 percent in Infrastructure. Profit rate was 16.0 percent and up 80 basis points.
For the full year, SBD's total 2017 sales of $12.75 billion increased 11.7 percent YoY, with organic sales up 7 percent. Total 2017 profit of $1.23 billion increased 27.0 percent, operating margin dipped 0.3 percent to 14.1 percent and gross margin ticked up 0.1 percent to 37.5 percent.
Along with the financials, SBD announced that it has agreed to purchase Elyria, OH-based Nelson Fastener Systems for approximately $440 million. The deal doesn't include Nelson's automotive stud welding business. Expected to close in the first half of 2018, the addition enhances SBD's Engineered Fastening presence in the general industrial end markets and expands its portfolio of solutions.
"We achieved these excellent results while successfully integrating multiple acquisitions on or ahead of plan," SBD president and CEO James Loree said. "We are particularly excited about the growth pipeline for 2018 and beyond which includes core innovation, the Craftsman brand rollout, Lenox and Irwin revenue synergies, FlexVolt, emerging markets and additional acquisitions such as Nelson Fastener Systems."