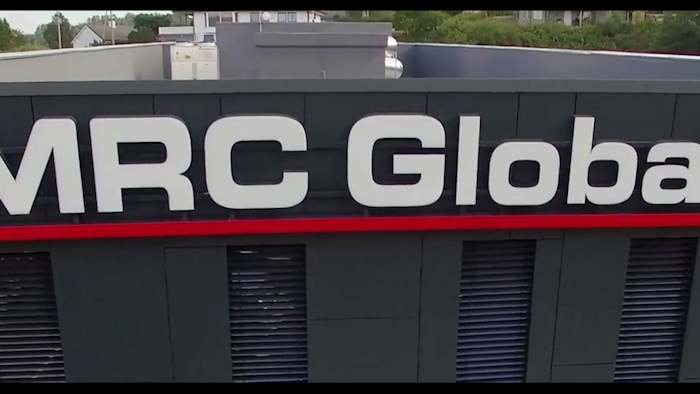 Houston-based MRC Global — No. 9 on Industrial Distribution's Big 50 List — reported its 2017 Q3 fiscal results on Thursday, led by a considerable improvement in year-over-year sales and a solid gain in sequential sales while the company's net loss continued to shrink.
The industrial pipe, valve and fittings products distributor posted Q3 total sales of $959 million, up 20.9 percent year-over-year and up 4.0 percent sequentially from Q2. That follows gains of 23.6 percent YoY and 7.0 percent sequential in Q2. The company cited growth across all sectors for the Q3 increases.
MRC Global posted a Q3 profit of $3 million, a considerable YoY turnaround from a $40 million loss. The company posted a zero profit in Q2 and Q1 of this year. Q3's operating profit of $22 million likewise compared with a loss of $36 million a year earlier. Q2's operating profit was $17 million. Q3 profit margin of 15.8 percent compared with 11.1 percent a year earlier.
"Third quarter results were strong, delivering adjusted gross margin of 19 percent and adjusted EBITDA of $56 million, as we worked through the disruption of two major hurricanes and helped our customers get their operations back online," MRC president and CEO Andrew R. Lane said. "We are well-positioned for continued growth as the energy markets continue to improve."
By geographic segment in Q3:
U.S. sales of $759 million were up 29 percent YoY, with the company citing growth across all sectors primarily due to increased midstream customer activity and upstream well completion activity.
Canadian sales of $77 million were up 10 percent YoY, primarily due to the upstream business as a result of an increase in rig count and well completions, partially offset by a decline in the midstream business.
International sales of $123 million were down 8 percent YoY, primarily due to declines in the upstream sector partially offset by a $12 million Australian line pipe delivery in the midstream sector.
By business sector in Q3: 
Upstream sales 20 percent YoY to $269 million, or 28 percent of total sales. The increase in upstream sales was in MRC's U.S. segment, which was up 42 percent and its Canadian segment, which was up 55 percent as a result of increased customer activity.
Midstream sales increased 34 percent YoY to $437 million, or 46 percent of total sales. Sales to transmission and gathering customers were up 41 percent while sales to gas utility customers were up by 27 percent.
Downstream sales increased 5 percent YoY to $253 million, or 26 percent of total sales. The U.S. downstream sector was the primary driver of the increase, growing 6 percent over the third quarter of last year.