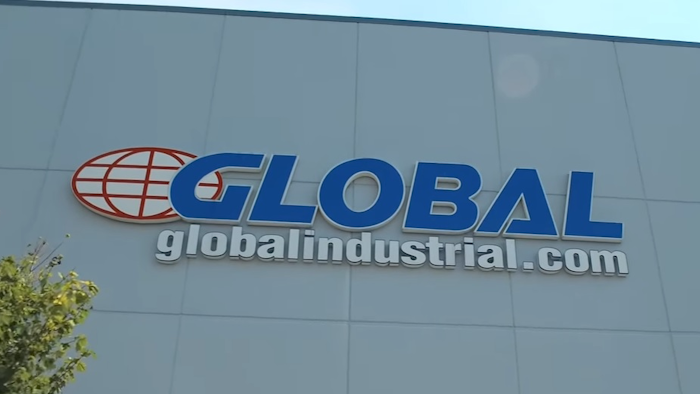 Port Washington, NY-based industrial conglomerate Systemax reported its 2016 fourth quarter and full year fiscal results on Tuesday, which included Q4 sales and profit declines, while performance at the group's Industrial Products segment — Global Industrial — remained solid.
Systemax reported Q4 sales of $414.7 million, down 10.9 percent year-over-year, while the company's net loss of $2.1 million was much smaller than the $32.5 million loss it had a year earlier. For the full year, Systemax's 2016 sales of $1.68 billion were down 9.4 percent from 2015, while it's net loss of $32.6 million was much smaller than the $99.8 million loss for 2015.
At Global Industrial — No. 24 on Industrial Distribution's Big 50 List — Q4 sales of $175.7 million were down 1.7 percent year-over-year, snapping the segment's stream of 27 consecutive quarters of sales growth. However, average daily sales increased 4.7 percent. Q4 gross profit of $48.9 million declined 5.6 percent and operating profit of $9.8 million dipped 1.0 percent.
For the full year, Global Industrial's 2016 total sales of $715.6 million grew 2.4 percent compared to 2015, while average daily sales grew 2.8 percent. Gross profit of $198.3 million was flat, while operating profit of $35.2 million declined 20.0 percent.
"In Industrial we extended our solid top line performance, with revenues reaching a record level for the full year 2016 and we had an outstanding fourth quarter with average daily sales increasing greater than many MRO market competitors," said Larry Reinhold, Systemax CEO. "Profitability at Industrial continues to reflect investments in sales representatives and our nationwide warehouse infrastructure."
Reinhold added that last week Global Industrial completed its warehouse system conversion, with all six of its distribution centers now on a single third-party integrated platform. The company expects this to enhance cost efficiencies in its distribution network going forward.
"The business remains very well positioned and we have built a scalable infrastructure that is capable of handling higher volumes," Reinhold added. "We expect to see profitability gains as we capitalize on our efficiency initiatives and the business continues to grow."
Global Industrial was the subject of ID's September/October issue Distributor Profile, which can be found here.