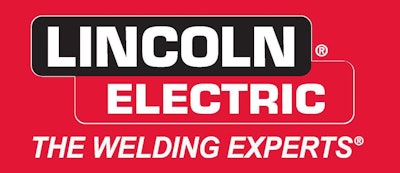 Cleveland, OH-based Lincoln Electric reported its 2016 second quarter financial performance on Monday, led by sizeable year-over-year decreases in sales and profits.
The manufacturer of arc welding products and systems, plasma and oxy-fuel cutting equipment posted Q2 sales of $592.4 million, down 10.9 percent from a year ago. The company said the decrease reflects a 32.6 percent decline from foreign exchange headwinds and lower volumes of 9.7 percent, offset by a 28.4 benefit from price and 3.0 percent gain from acquisitions.
Total profit, meanwhile, decreased 55.8 percent from last year to $31.3 million, operating income was down 50.7 percent to $48.1 million.
Lincoln's Q1 included a 16.3 percent sales decline and a 21.6 percent profit decline.
"While we have yet to see sustained improvement in industrial demand across all of our businesses,"said Lincoln Electric chairman, president and CEO Christopher Mapes. "We continue to invest for long-term, profitable growth with a broad range of product launches, operational excellence initiatives and interim cost control measures to maximize shareholder value through the economic cycle."
Lincoln's Americas Welding segment had Q2 sales of $388.4 million, down 13.8 percent year-over-year. The segment had a negative $212.7 million impact from foreign exchange and a negative $60 million impact from volume, offset by a positive $193.7 million impact from price and a $16.3 million impact from acquisitions.
Lincoln's International Welding segment had Q2 sales of $141.9 million, down 6.4 percent from a year earlier. Lincoln's Harris Products Group segment had Q2 sales of $71.8 million, down 1 percent from a year earlier.