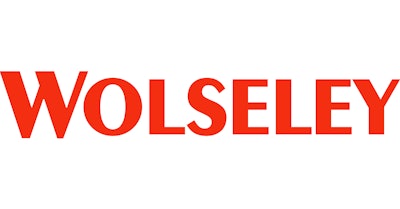 Reading, England-based Wolseley — No. 1 on Industrial Distribution's Big 50 List — reported its 2016 fiscal third quarter results on Wednesday and touched on European restructuring efforts that are accelerated compared to plans the company previously announced.
The plumbing products distributor posted Q3 sales of $5.28 billion, up 10.8 percent overall but up only 2.8 percent on a like-for-like basis. The company also said like-for-like growth since the end of its third quarter on April 30 had slowed to 1 percent.
Wolseley's Q3 trading profit grew 12.2 percent year-over-year at constant exchange rates to $330.7 million.
"Wolseley generated decent revenue growth in the third quarter in mixed market conditions and against continued deflationary headwinds," said Wolseley CEO Ian Meakins, whose upcoming retirement will be effective Aug. 31. "The commercial and residential markets in the U.S. held up well and we achieved good volume growth, though this continued to be partly offset by weaker Industrial markets and the ongoing impact of commodity price deflation which reduced the U.S. growth rate by 2.3 percent."
At Wolseley's U.S. subsidiary, Ferguson Enterprises, Q3 sales of $3.5 billion grew 5.0 percent year-over-year on a like-for-like bases, as the company said its Blended Branches, Waterworks, HVAC, Fire and Fabrication and B2C all generated good growth. That growth rate is down from the 8.3 percent growth Ferguson had a year earlier. The company said that industrial markets, which represent 13 percent of Ferguson's revenues, continued to be impacted by weakened demand. Ferguson completed two bolt-on acquisitions during Q3 with a total annual revenue of $13 million. Ferguson represented 66.0 percent of Wolseley's Q3 sales.
In the U.K., like-for-like sales of $763 million were down 0.4 percent from a year ago, while Nordic sales of $659 million were down 2.6 percent. Canada sales of $225 million were up 0.1 percent and Central Europe sales of $147 million were down 0.2 percent.
In light of the weakened U.K. and Europe sales, Wolseley said Wednesday that it had "committed to further restructuring" in those regions as part of an overhaul the company announced in March that includes the closure of 14 branches and elimination of about 300 jobs. Wolseley said the cost of the total restructuring will increase from $21.6 million to around $28.8 million.
Wolseley said despite the restructuring, trading profit will be in line with market expectations.
On May 27, the company announced that the CFO it recruited this past January, Simon Nicholls, will not be taking the role after all and that a search for a permanent CFO would begin immediately. Ferguson CFO David Keltner will be appointed interim Wolseley CFO on Sept. 1.