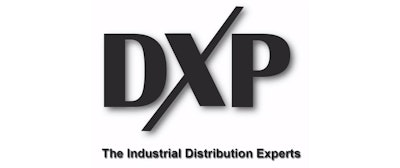 Houston-based DXP Enterprises — No. 20 on Industrial Distribution's 2015 Big 50 List — reported its 2016 first quarter financial results on Thursday, led by continued substantial declines in year-over-year sales and profit.
The company posted Q1 sales of $253.6 million, down 25.8 percent from a year earlier and down 9.0 percent from Q4. DXP took a net loss of $5.2 million in Q1, compared to a $15.7 profit a year earlier and a $2.9 million loss in Q4. Operating loss in Q1 was $2.0 million, compared to a operating profit of $18.1 million a year earlier.
On the bright side, DXP reduced its Q1 selling, general and administrative expenses by 11.4 percent year-over-year.
Despite the big declines, DXP chairman and CEO David Little provided an optimistic outlook for the company going forward.
"DXP's industrial end markets, which is 60 percent of our business today, appears to have bottomed and shows signs of positive upward movement," Little said in the company's earnings release. "Oil and gas, which today is 40 percent of DXP, is attempting to find a bottom as declines are decreasing.
"Should conditions improve, the combination of strong early feedback on DXP's pump offering, a gradual return of project work and continued improvements to our cost structure will result in strong earnings growth."
By segment
DXP's Service Centers business sales declined 25.8 percent year-over-year, and 10.6 percent from Q4.
Innovative Pumping Solutions sales declined 36 percent year-over-year, and 9.1 percent from Q4.
Supply Chain Services sales of $38.6 million declined 7.0 percent year-over-year, and 1.2 percent from Q4.
"The continued sequential declines reflect the ongoing challenges in oil and gas and the mining markets and the associated cut in spending and activity by these customers," Little said. "These declines were mitigated by stability in the food & beverage and chemical markets."