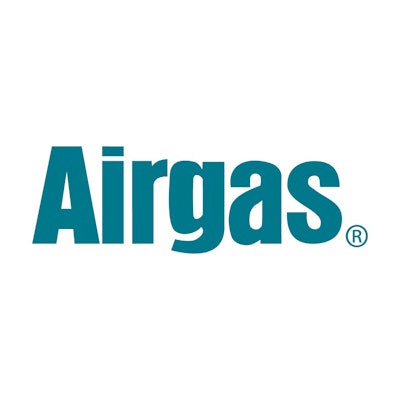 Radnor, PA-based Airgas, which is currently in the process of being acquired by Paris, France-based Air Liquide, released what will be its final full year fiscal results on Tuesday night. The company — No. 9 on Industrial Distribution's 2015 Big 50 List — did it in an unconventional way, releasing just a 10-K filing report instead of its usual quarterly earnings press release or conference call.
The report said Airgas' fiscal 2016 that ended March 31 had sales of $5.31 billion, nearly identical to 2015's $5.3 billion. Fourth quarter sales of $1.33 billion were up slightly year-over-year from $1.3 billion in Q4 2015.
The company said 2016 full year organic sales decreased 1 percent year-over-year, with gas and rent up 2 percent and hardgoods down 7 percent.
Airgas' 2016 profit was $337.5 million, down 8.3 percent from 2015's $368.1 million. Q4 2016 profit of $77.36 million was down 11.8 percent from $87.7 million a year earlier, but up slightly from Q3's $73.9 million.
"The company's organic sales continue to reflect the challenging industrial economy and in particular the pressure on sales to customers engaged in the energy and chemical and the manufacturing and metal fabrication sectors," Airgas said in Tuesday's report. "The sluggish U.S. industrial economy, slowing global economy and strong dollar continue to challenge the Company's customers across these and other sectors. Continued strength in certain sectors, such as non-residential construction, helped to mitigate these sales declines."
Operating income margin of 10.9 percent was down 1.2 percent from 2015. The company attributed 0.7 percent of the decline to the pending acquisitino by Air Liquide, with the remaining 0.5 percent due to challenging economic conditions and "the impact of rising operating costs in the current negative organic sales growth environment in the company's distribution business segment." Consolidated operating income in 2016 was $580.7 million, down 9.5 percent from 2015.
During fiscal 2016, Airgas acquired 18 businesses with aggregate historical annual sales of approximately $85 million.
Full-year sales in Airgas' Distribution segment — which accounted for 90 percent of total business — declined 1 percent from 2015. Organic sales declined by 2 percent, with a 1-point impact from higher pricing and a 3 percent decrease in volume. Hardgoods organic sales decreased 7 percent. Sales from the All Other Operations segment increased 13 percent.