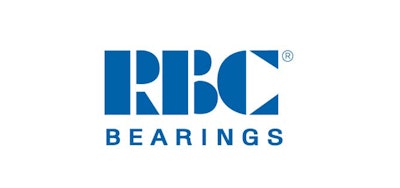 Oxford, CT-based RBC Bearings recently reported its 2016 fourth quarter and full year fiscal results, highlighted by a 34.2 percent increase in sales over 2015 due to a spike in sales to aerospace customers.
The bearings maker posted 2016 full year sales of $597.5 million. Profit of $63.9 million for 2016 increased 9.7 percent from 2015.
For Q4 2016, total sales of $162.3 million jumped 43.1 percent year-over-year, while profit of $18.9 million increased 26.8 percent.
RBC Bearings' aerospace sales increased 70.0 percent, while industrial markets sales declined 9.4 percent.
"Our fiscal fourth quarter provided a strong finish to a remarkable year for RBC Bearings," said Michael Hartnett, RBC chairman and CEO. "Our results demonstrated solid execution and continued strong operating performance. It's been 11 months since we closed the Sargent acquisition and we're very pleased with the earnings accretion, strong cash flows, highly technical product offering, and very talented and dedicated team running these businesses."
RBC announced its $500 million acquisition of Sargent Aerospace & Defense in March 2015.