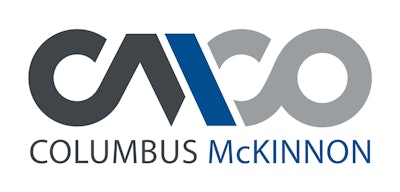 Amherst, NY-based Columbus McKinnon, a supplier of material handling products and services, reported its 2015 fourth quarter and full year fiscal results on Wednesday for the period ended March 31.
The company posted Q4 sales of $155.1 million, up 4.1 percent. Excluding foreign exchange headwinds, sales increased 6.6 percent. The company said its 2015 acquisition of Magnetek, announced last July and completed in early September, contributed $25.7 million to Q4 sales.
Q4 net profit of $5.9 million nearly tripled from $2.0 million a year earlier. Gross profit margin increased 0.7 percent year-over-year to 31.2 percent, while operating margin decreased 0.9 percent to 7.6 percent.
For the full year, 2016 sales of $597.1 million was a 3.0 percent increase over 2015. Excluding foreign exchange, sales increased 8.1 percent. Net profit of $19.6 million decreased 28.0 percent from a year earlier, gross profit margin dipped 0.1 percent to 31.4 percent and operating margin decreased 2.6 percent to 6.8 percent. The Magnetek and Stahlhammer Bommern acquisitions contributed $74.3 million in 2016 sales.
"We gained market share in the U.S. even as the U.S. hoist and rigging markets declined due to the pervasive North American industrial recession," said Columbus McKinnon president and CEO Timothy Tevens. "Our leading position and large U.S. installed base, responsive customer service and excellent channel partners enabled us to grow our market position.
Q4 U.S. sales of $100.1 million, which comprised 65 percent of total sales, increased 17.1 percent in Q4, with Magnetek sales more than offsetting a decline in volume. Sales outside of the U.S. were $54.9 million, a decline of 13.3 percent.
Full year U.S. sales of $373.8, which comprised 63 percent of total sales, increased 11.4 percent over 2015, again with Magnetek sales more than offsetting a decline in volume. Sales outside of the U.S. were $223.3 million, down 8.5 percent from last year.
"With the addition of Magnetek, we are transforming Columbus McKinnon into a leading industrial technology innovator in the material handling industry and expect to continue to grow our revenue and profits as we enhance our innovative capabilities through new product development and, at the appropriate time, future acquisitions."
The company said fiscal 2017 "will be a challenging time for Columbus McKinnon" as global industrial markets will most likely remain weak.