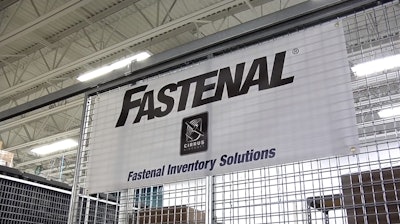 Fastenal — No. 12 on Industrial Distribution's 2015 Big 50 List — posted its April sales information on Thursday, showing a return to daily sales growth after a flat March.
The Winona, MN-based company had April sales of $331.5 million, which was down 0.9 percent overall from last year's $334.5 million, but up 3.8 on a daily basis since April 2015 had an additional selling day.
On a monthly basis, total sales decreased 7.2 percent from March, while daily sales inicreased 1.7 percent.
It was the third month in the past four that Fastenal has posted year-over-year daily sales growth, following four straight months of decline. The 3.8 percent was the highest margin of year-over-year growth the company has posted since May 2015.
Here's how the past 12 months of daily sales have looked for Fastenal:
April 2016: +3.8 percent
March 2016: 0.0 percent
February 2016: +2.6 percent
January 2016: +3.3 percent
December 2015: -3.8 percent
November 2015: -1.1 percent
October 2015: -0.8 percent
September 2015: -0.3 percent
August 2015: +1.6 percent
July 2015: +3.2 percent
June 2015: +3.7 percent
May 2015: +5.3 percent
Fastenal said currency fluctuations had a negative 0.4 percent impact on April daily sales, while acquisitions had a positive 0.6 percent impact.
April daily sales to manufacturing customers grew by 3.8 percent year-over-year, while sales to non-residential construction customers declined by 0.8 percent.
Daily sales of the company's fasteners products were flat year-over-year, while sales of other products grew by 6.5 percent.
Fastenal said it opened four new stores during April, and had opened 21 new stores in 2016 as of April 30. That is consistent with the company's first quarter earnings report in which it plans to open 40 to 60 new stores in 2016.
Fastenal's employee headcount was 20,418 at the end of April, up 5.9 percent from a year earlier. But the company has lowered its headcount by 328 since the end of December, or 1.6 percent.