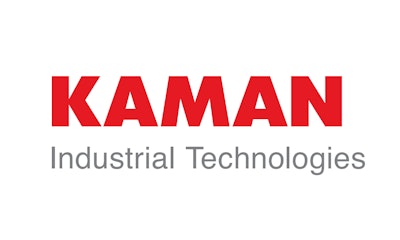 Kaman Corp. reported its 2016 first quarter fiscal results on Tuesday, showing a continued decrease in year-over-year sales growth for its distribution segment — Kaman Industrial Technologies.
Kaman Industrial — No. 21 on Industrial Distribution's 2015 Big 50 List — had Q1 sales of $288.7 million, a 7.3 percent decrease from a year earlier, but up 8.7 percent from Q4. The decrease was smaller than the 12.2 percent year-over-year decrease in Q4. Operating income of $10.5 million was down 18.6 percent. Organic sales decreased 5.7 percent.
Kaman's aeospace segment Q1 sales of $162.5 million increased 23.8 percent, while operating income decreased 2.4 percent. Organic sales increased 3.1 percent.
Overall, Kaman Corp. had total Q1 sales of $451.2 million, a 1.9 percent year-over-year increase, with organic sales down 2.6 percent. The company's profit of $9.8 million decreased 23.6 from a year ago, but was up from Q4's $8.8 million.
Kaman began restructuring activities of its distribution segment during Q4 aimed to cut costs, which included headcount reductions and facility consolidation. On Tuesday Kaman said those activities included a reduction of 60 employees and an exit from four facilities where it had multiple facilities in the same location.
"Our recent actions at distribution to adjust our cost structure have contributed to the sequential improvement in operating margin performance," said Neal Keating, Kaman president and CEO. "While we anticipate continued market challenges, we feel well positioned to improve operating performance for the balance of the year."
"In addition, we expect tepid market conditions in distribution to continue with year-over-year comparisons improving as we move through the second half of the year," added CFO Robert Starr. "Distribution's operating margin should improve as we realize benefits from our restructuring actions, our productivity initiatives take hold and our organic sales per sales day improve."