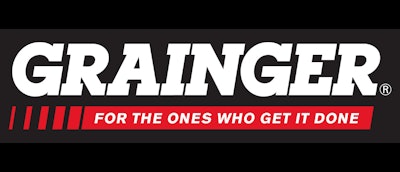 Grainger – No. 3 on Industrial Distribution's 2015 Big 50 List – reported its 2015 fourth quarter and year end earnings on Tuesday for the period ending Dec. 31.
The company posted Q4 sales of $2.48 billion, down 1.3 percent year-over-year, narrowly beating analysts' expectations of $2.47 billion. Q3 sales were $2.53 billion. Meanwhile, Grainger's profit of $145.2 million was a 2.4 percent yearly decrease from last year. Q3's profit was $192.2 million.
As expected, the company attributed the sales and profit declines to ongoing foreign exchange headwinds, low oil prices, and lower pricing.
In its Q4 earnings release podcast, Grainger stated that it plans to close 55 branches in 2016 as it continues to adjust its U.S. branch network.
Grainger closed 47 branches worldwide in Q4, including 36 in the U.S. and nine in Canada, bringing its year-end branch count to 667. It has 34 distribution centers. The company closed 49 U.S. branches throughout 2015, closed 16 branches in Canada, and 16 branches at Fabory in Europe.
For the full year, Grainger's 2015 sales of $9.97 billion was a slight increase from 2014's $9.96 billion, while profit of $769 million was down 4 percent from 2014's $802 million.
"This was a challenging year for us and for most industrial companies, with an unprecedented combination of declining oil and commodity prices, low inflation and a strong U.S. dollar," said Jim Ryan, Grainger's chairman, president and CEO. "We took action in 2015 by restructuring several of our businesses, resulting in a leaner cost structure. As previously communicated, we will continue to execute changes in the United States and Canada in 2016."
Sales in the U.S. which accounted for 74 percent of Grainger's total revenue in Q4, declined 3 percent. Here's how Grainger said its Q4 U.S. sales performed by end market:
Retail was up in the mid-single digits
Government was up in the low single digits
Light Manufacturing was flat
Contractor and Commercial were down in the mid-single digits
Heavy Manufacturing was down in the high single digits
Reseller was down in the low double digits
Natural Resources was down in the low twenties
Grainger's Canadian segment – representing 8 percent of total company revenue – had a 27 percent sales decline in Q4. All end markets except Government and Forestry were down from last year. Geographically, sales in Alberta were down about 30 percent, while all other provinces were down a total 4 percent.
Grainger's Other Businesses segment – representing 18 percent of total company sales includes operations in Europe, Asia and Latin America – saw Q4 sales increase 41 percent year-over-year. The considerable increase was largely due to a 33 percentage point gain from the Cromwell acquisition, and an 18-point gain from growth in volume and price.