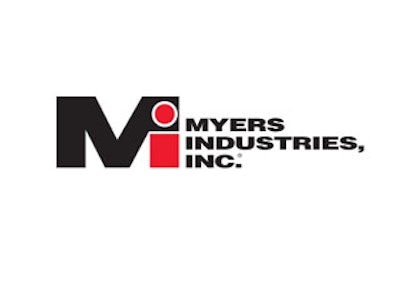 Global polymers manufacturer Myers Industries reported its 2014 fourth quarter and full year financials on Wednesday for the period ended Dec. 31, 2014.
The numbers were highlighted by a Q4 year-over-year net sales increase of 9.4 percent to $158.3 million, while full year sales of $623.6 million was a 6.7 percent increase over 2013. The company says the growth in both periods was largely due to the acquisition of Scepter.
But despite the sales gains, the company reported a Q4 profit loss of $10.1 million, and a full year loss of $6.4 million.
President and Chief Executive Officer John C. Orr commented, "As we anticipated, sales in the fourth quarter improved over the previous year's fourth quarter. However, weakened demand for our Material Handling segment's agricultural and food processing products, together with a challenging Brazilian economy, led to lower profitability versus last year. We continued to streamline our business portfolio in 2014 to realize our strategic goal to strengthen our leadership position in the Material Handling segment, while preserving a strong market position in our Distribution segment."
Net sales in the Material Handling segment for Q4 were $110.1 million, compared to $95.6 million last year. The Material Handling segment's net sales for the full year of 2014 were $432.1 million, compared to $380.6 million in 2013. The increase in net sales as compared to last year was due mostly to incremental sales from the Scepter acquisition. 
Net sales in the Distribution segment in Q4 were $48.3 million, compared to $49.2 million last year. Organic growth in sales of supplies and equipment in the U.S. were more than offset by lower sales in Canada due to the closure of the Canadian branches in the first quarter of 2014, and a decline in custom sales as compared to the fourth quarter of last year. The Distribution segment's net sales for the full year of 2014 were $191.9 million, compared to $204.5 million in 2013.