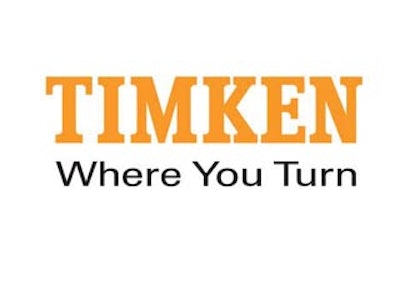 North Canton, OH-based bearings maker Timken on Thursday reported its 2015 first quarter financials, reporting total sales of $723 million, down 2 percent year-over-year. The company had a net loss of $135.2 million, compared to Q1 2014's profit of $60 million.
"Although the year started off softer than expected, we were successful in achieving 3 percent sales growth before currency and delivered adjusted earnings in line with last year," said Richard G. Kyle, Timken president and chief executive officer. "We continue to outgrow markets in Process Industries, achieving 9 percent growth in the quarter excluding currency."
Timken's Mobile Industries segment had sales of $393 million, down 7 percent from last year. The company said 4.5 percent of the decrease is due to currency headwinds, while the remainder is due to declines in aerospace, agriculture and the automotive aftermarket, partially offset by growth in the rail sector.
Timken's Process Industries sales of $329.5 million for the first quarter were up approximately 5 percent over the same period last year despite a currency impact of 4 percent. Sales were driven by strong organic growth in the wind energy and military marine sectors as well as the benefit of acquisitions, partially offset by currency. 
For its 2015 full-year outlook, the company expects year-over-year revenue to be down approximately 4 percent, with negative currency of 5 percent more than offsetting expected growth of 1 percent. Mobile Industries' sales are expected to be down 5 to 6 percent. Process Industries' sales are expected to be down 2 to 3 percent.
On Tuesday, Timken announced the introduction of medium bore high-performance Timken spherical roller bearings, including new steel cage sizes.
"Customers have made spherical roller bearings an increasingly important element of our core product line. Now they can choose from an even greater selection of sizes featuring steel or brass cages," said Amanda Montgomery, product line vice president for Timken.
Spherical roller bearings are widely used in process industries in equipment ranging from continuous casters, crushers, vibratory screens, excavation loaders and conveyors. To help customers select Timken spherical roller bearings, the company offers downloads of 2D drawings and 3D models for addition to presentations or insertion directly into a CAD system at www.timken.com/spherical. An interactive catalog with extensive product information and a comprehensive list of spherical roller bearings and accessories also are featured on the website.
In designing the company's high-performance spherical roller bearing offering, Timken engineers added a number of special features that contribute to longer bearing life.
Learn more about the expanded Timken high-performance spherical roller bearing product line at www.timken.com/spherica