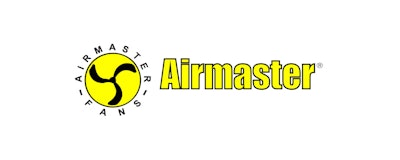 JACKSON, Mich. – Airmaster, a leading manufacturer of air circulation and ventilation fan solutions, announces Robert Zellhoefer as its director of HVAC sales.
In this position, Zellhoefer is responsible for product line development and acquisition, as well as training, development and management of the channel partner sales organization. Zellhoefer is also responsible for acquiring, developing and retaining key regional and national accounts in residential, commercial, industrial and institutional HVAC markets in North America.
Zellhoefer has more than 36 years of industry experience. Prior to joining Airmaster, he worked as national business development manager at AEC, sales manager at ASC and SESCO and field sales manager at Twin City Fan and Carnes.
"Airmaster is very happy to welcome Bob to our growing sales team," said Benjamin Braitsch, president and CEO of Airmaster. "His illustrious career in the industry will help develop Airmaster as the premier choice in the North American HVAC ventilation market."
Zellhoefer currently lives in Roscoe, Ill., and earned a bachelor's degree in business administration and management from the University of South Dakota and a master's degree in business administration from Edgewood College. He served in the South Dakota Army National Guard and graduated from the South Dakota Non-Commissioned Officers Academy.