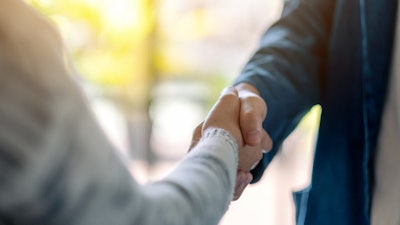 iStock
Despite its roots and everlasting reputation for face-to-face relationships, most discussions concerning the industrial supply sector today focus on the digital realm: how sellers are utilizing digital tools to best reach and service their customers and how to make their buying experience as painless as possible.
But even as tech-savvy Millennials and Gen-Z staff comprise more and more of industrial products procurement positions, personal relationships between buyers and sellers are still a vital element.
That's the argument Claudia Hughes — senior vice president & chief sales officer at Global Industrial, told Industrial Distribution in a recent interview. Global Industrial — No. 16 on ID's 2021 Big 50 List — saw its 2020 sales jump by nearly 9 percent, largely due to its investments in digital capabilities. Still, Hughes says, its those personal relationships that remain crucial in the B2B supply sector.
Here's what Hughes had to say about the current state of personal relationships in industrial sales and the value they will continue to provide:
Hughes"As companies shift investments to e-commerce platforms to engage customers, why do personal relationships still matter in industrial product sales?  Account Managers exist to solve problems for customers versus a sole focus on a product sale. Professional sellers, whether on- site, video or phone, are trained to ask probing questions to uncover the need behind what the product will do for the customers operation. That is a big distinction of what can be accomplished with a personal relationship versus an online experience. A professional sales associate will create long-term relationship with clients, understand their needs, and help them with solutions that they may not be aware of. This relationship will lead to repeat orders and additional product categories being sold, and ultimately increase the total lifetime value of the relationship. Successful industrial products sales associates are not order takers; they are problem solvers and value creators for their customers and their employers. 

Understanding the value this brings to the customer, what do you feel is the right approach to blending e-commerce and the personal engagement of a sales professional? B2B customers are looking for an omni-channel approach to purchasing. Buyers want to interact with companies in person, remotely and though self-service options. A hybrid salesforce interacts with customers by phone and video, and onsite visits. Structuring a sales team with these defined roles meets the customers' expectations and allows for optimization of resources, while controlling costs. In addition, organizing the e-commerce experience and the sales professional by industry or vertical will provide the customer with custom solutions specific to their needs, further solidifying the professional seller as an expert in their field and a dedicated resource for customers. 

How do you optimize sales productivity to ensure customers get the most value out of every touchpoint? Sales organizations are taking advantage of data analytics, AI and CRM tools to guide sellers to offer the right product category, at the right time, based on their customers' purchasing trends and anticipated needs. Personalized marketing campaigns allow the sales team to send targeted emails specifically curated to a customer's needs based on company type and purchase history.  By putting relevant content into our sellers' toolkits, we optimize the live sales calls they have with customers and prospects. Use of these tools leads to value-add conversations, that are highly valuable to the customer. Further, advanced analytics and talk tracks streamline the sales motion for sellers allowing them to focus additional time on understanding their customer's business needs and partnering on solutions.

Is adding more personalized sellers the best way to achieve revenue growth? Revenue growth will continue to be influenced through omni channel efforts. New customers may find a supplier or product through self-service tools, however, a well-trained professional sales team, acting as a consultant to the most valuable customers, is key to retaining and growing them into a long-term business relationship and establishing your company as a partner in their success."