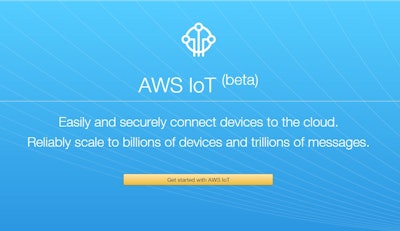 Amazon.com last week announced plans to join the wave of tech companies investing in the Internet of Things.
The e-commerce giant unveiled a new division of its Amazon Web Services operation called AWS IoT.
The platform offers companies a pay-as-you-go system to connect devices, applications and cloud services while storing and analyzing the massive amounts of generated data.
Read more: Internet of Things: The future of manufacturing.
Products connected to the system's Device Gateway would then enable manufacturers to set criteria for how AWS IoT should handle data, as well as what actions should be taken if sensors meet certain conditions.
A slew of prominent semiconductor manufacturers — Arrow, Avnet, Broadcom, Intel, Marvell, Mediatek, Microchip, Qualcomm, Renasas, SeedStudio and Texas Instruments — will also offer starter kits for the platform.
"Everything that used to be hardware is now software," Amazon Chief Technology Officer Werner Vogels told the audience at the company's annual conference in Las Vegas.
Analysts expect the IoT market to triple in value to $1.7 trillion by 2020.